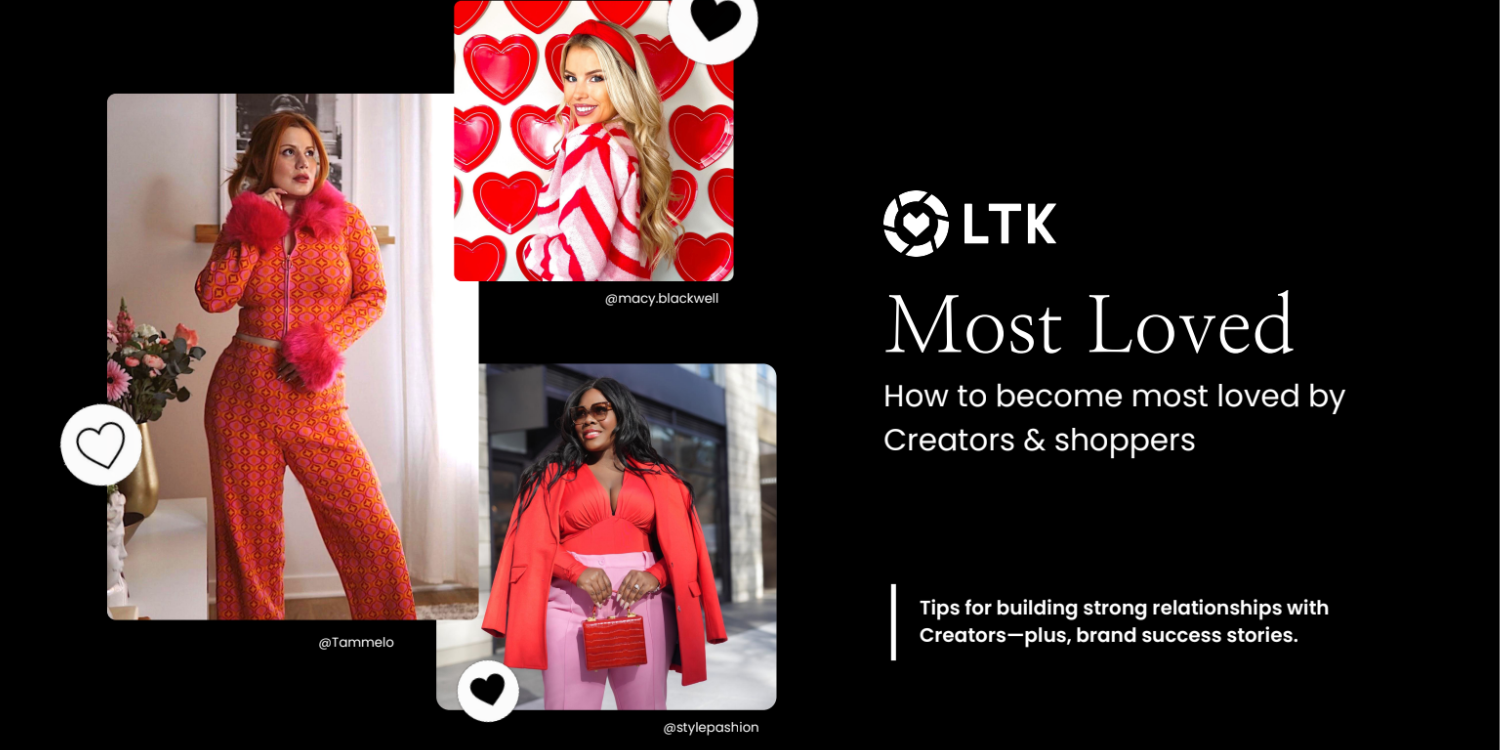 In LTK's recent Most Loved products of the year awards, we evaluated millions of Creator-linked products to identify top-performing products based on consumer engagement, impressions, clicked links, items sold, and total sales. Leveraging these success stories, we've compiled tips for creating closer relationships with Creators and shoppers.

Take a look at what we learned — we hope the tips can help you in building stronger relationships with Creators and your customers as well!
Growth in All Three Sides of the Marketplace
Before we get into the strategies to which we attribute our clients' success, let's go over the overall growth in the three sides of our marketplace in 2022:
Creators
Our New Creator count grew by tens of thousands every quarter. Among all of our Creators, post volume across all channels grew double digits. Video dominated as the main form of product marketing and more than doubled.
Shoppers
Monthly LTK shoppers grew double digits year-over-year and month-over-month.
Brands
LTK campaign spend grew in the double digits. This was driven by both the increase in the number of brands investing and an increase in spend per brand investing.
What were some of the trends that we think Creators and brands can take advantage of in the new year to see similar results? Let's dive in!
1. Utilize Short-Form Video
As social media moves more and more toward favoring video, brands need to consider creating video-first marketing strategies.
We took this approach in 2022 and found a number of favorable results:
Video content drove 3x gross merchandise volume growth year-over-year when comparing video versus static content.
Short-form video campaigns are up 5x year-over-year.
Creator video posts on our platform more than doubled year-over-year.
Why is this information valuable? Two important reasons:
Video has the potential to elevate your product, performance, and revenue.
The strong performance from our study shows a macro industry shift toward a medium that consumers prefer to interact with.
2. Evaluate Benchmarking
Benchmarking takes out the guesswork by providing you with real data to understand your strengths and weaknesses. By implementing a benchmarking process, you can compare success with companies in your industry and better understand common problems.
For the annual LTK Most Loved awards, we evaluated millions of Creator-linked products using the LTK Influencer Benchmark Tool to determine the top-performing products based on:
Creator and consumer engagement
Impressions
Clicked links
Items sold
Total sales
By evaluating the data from these metrics, we were able to identify the most loved products from major brand names, including Express, Walmart, Stanley, Ulta, and Abercrombie & Fitch.
3. Utilize Data Analytics
According to our sales trends, consumers are most likely to purchase food, beauty, fashion, and home products based on Creator recommendations. The top 10 categories for general population, millennials, and Gen Z are:
General population: Beauty and personal care, food, fashion, home, electronics, gaming, cleaning supplies, gifting, garden, and memberships and services
Millennials: Beauty and personal care, fashion, food, electronics, home, gaming, cleaning supplies, garden, gifting, and memberships and services
Gen Z: Fashion, beauty and personal care, food, home, gaming, electronics, gifting, cleaning, memberships and services, and garden
4. Audit Platform Features
Now more than ever, shoppers are using Creators to search for new products. LTK serves as a one-stop destination and trusted resource for these needs. Below are some of the new features in the LTK platform that are helping to drive conversions:
Personalized search: Shoppers interacted with this feature more than any other. With personalized search, shoppers can scroll through the Creators they follow.
Collections: This feature organizes products based on new products, seasonal products, trending products, and other features.
Price drop alerts: This feature notifies customers when products have dropped in price. These are either products they have viewed before or products similar to those they have bought or viewed.
Search in LTK shop: Using keywords or phrases, customers can find a variety of products.
Product reviews. Nine out of 10 buyers say they read reviews before buying a product, which means reviews are no longer a nice perk but rather a necessity.
5. Identify Shopper Behaviors
This last point is an obvious one, but you'd be surprised by how many businesses in this industry treat buyer behaviors with a "set it and forget" mentality. In reality, shopper behaviors are changing all the time. In 2022, we found that:
98 percent of consumers are shopping online
58 percent say the majority of their shopping is online
When it comes to mobile shopping:
60 percent shop the majority of the time on their phones
70 percent of millennials shop on their phone
64 percent of Gen Zers shop on their phone
When it comes to shopping on social media:
Four out of five Gen Zers and millennials have some shopping originate from social media
65 percent of the general population shop from social media
79 percent of Gen Zers and millennials shop from social media
Additionally, millennials and Gen Zers purchase through Creators 38 percent more than the general population.
Build Better Relationships with Creators and Shoppers with LTK
Our How to Become Most Loved by Creators & Shoppers webinar revealed a number of insights into how LTK has grown and where we have yet to grow.
When it comes down to it, building better relationships with Creators and shoppers is possible with the following best practices:
Offer a competitive commission and strong cookie window.
Choose and secure top sales drivers.
Prioritize video-centric Creators.
Emphasize diversity in Creator selection.
Boost and license Creator content to scale impact.
Work with Creators who speak to Gen Z and millennials.
Leverage LTK campaign data and industry trends.
Branch out to other channels and formats.
Want to dive deeper into the data-backed ways you can build better relationships?
Ready to discuss your Creator marketing strategy? Contact us today to get started!