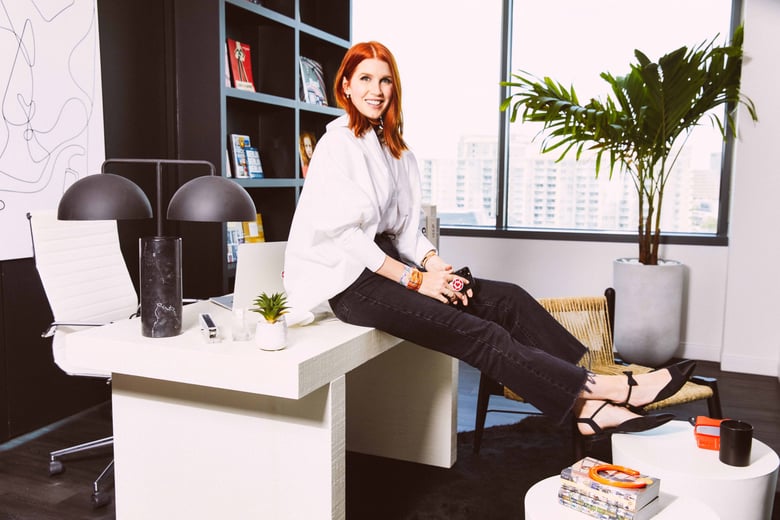 After celebrating our 11th anniversary, LTK continues to see strong growth across our business by empowering creators, brands and shoppers. The power of creators on the LTK platform is expanding - helping brands of all sizes drive traffic and sales, while helping shoppers with inspiration and purchase decisions - despite macroeconomic trends. Gen Z, in particular, looks to creators when making purchase decisions, with 92% relying on influencers to inform their purchases across virtually every category*.
Growth of the LTK three-sided marketplace continues to accelerate. With consumers, we've seen an increase in retail sales through LTK compared to 2021, with the largest growth in sales happening through the LTK shopping app. Additionally, brands are investing more in creator marketing to help drive sales, with a 54% increase in spend with LTK in Q2 year-over-year. And, more creators are investing in their shop on LTK as the total number of active LTK Creator Shops on the platform increased.
As more consumers and brands value the power of creator-guided shopping, let's dive into what we're doing across LTK to fuel this growth.
Consumer Platform:
One of our top goals this year has been to expand awareness of the LTK shopping app, which we delivered on with our very first ad campaign that put creators at the forefront. Additionally, we've been fast-tracking new app updates and tools to make consumers' lives easier and help them find what they need seamlessly. New features such as product reviews provide fit and sizing details from verified creators to help shoppers in their decision, and LTK's new personalized product search and creator-shopper matching features give shoppers an easier, more robust experience in the app. And, we just reached a significant milestone - 10M downloads of the LTK shopping app. And millions more shop from the LTK website every month.
Creator Platform:
LTK also introduced a new partnership with Stripe to provide LTK Creators with instant and secure payments through the LTK Connect solution. This partnership is a game changer for creators – reducing the time from completed work to payment from months to seconds. We're continuing to invest in new features and tools to further empower creator success. LTK Creators using the new product reviews feature in their posts increased shopper conversion by 52%, after the initial beta launch. And, we're introducing more updates to enhance the LTK Creator iOS app to make it easier and more powerful for creators to fuel their businesses. Stay tuned for the biggest evolution of the LTK Creator iOS app coming soon.
Brand Platform:
As brand investment in creators continues to grow, we're seeing more diversity in the type of products and brands curated for shoppers by LTK Creators, as LTK is now helping brands of all sizes engage with the LTK platform. In two months since the launch of LTK Connect - the self-serve LTK platform for brands of all sizes - we've seen impressive growth, with hundreds of brands engaging to discover, cast, communicate with and pay creators for influencer marketing campaigns. Launching a platform purpose-built for direct-to-consumer brands has been a goal for the company for some time because empowering creative entrepreneurs—whether a creator or brand — has been a driving force for LTK. And, to further help these brands fuel their growth, LTK announced a $1 million investment to those on the LTK Connect platform.
Looking Ahead
At LTK, we're always looking forward and we're excited about everything ahead of us for the second half of 2022, including the highly-anticipated return of LTK Con in September, and gearing up for the holiday shopping season.
As we close out the summer sales season, the impact creators are playing in our industry has never been more clear. Consumers and brands continue to turn to creators they trust to help them shop, save money and be inspired. Today, the role of creators is more important than ever, and it's our mission to empower creators with the tools they need to meaningfully engage their communities and grow their businesses every step of the way.
We have a lot of exciting things on the horizon, and LTK is continuing to grow our team - expanding by more than 50% since the start of 2022 - to fuel this expansion. We're eager to see what the rest of the year holds and to bring you new updates, tools and more exciting things to come in 2022!
About LTK
LTK is the largest global digital marketing platform powered by creators. It was founded in 2011 by Amber and Baxter Box to empower the world's premium lifestyle creators to be as economically successful as possible. For the past decade, LTK has grown to become a trusted and effective business-enablement platform where creators launch, run and grow their LTK Shop profile. Today, more than 6,000 brands partner with LTK to gain access to its global influencer network for content that converts against performance-driven, cross-channel KPIs. A three-time honoree on Fast Company's list of Most Innovative Retail Companies, LTK drives more than $3 billion in annual retail sales from nearly 200,000 talented creators in 100+ countries. The company is headquartered in Dallas, TX and currently operates on five continents. To download the app, search for LTK in the App Store or Google Play.
To follow the latest LTK Creator updates, follow LTK.HQ.
*According to LTK Study from June 2021, https://www.businesswire.com/news/home/20211019005053/en/LTK-Study-Reveals-Influencers-are-the-Single-Most-Important-Online-Purchase-Driver-for-Gen-Z-Adults