- New partnership is a game changer for creators – reducing the time from completed work to payment from months to seconds
- LTK creator-guided commerce drives more than $3B in retail sales annually
- LTK Connect is the new self-serve solution designed to open the door for more brands to tap into the power of creator-guided shopping and give LTK creators access to more brand opportunities
- Stripe will power LTK Connect's instant, simplified payments from brands to influencers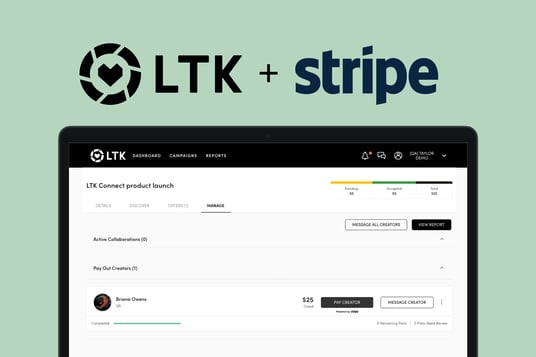 July 14, 2022 – DALLAS -- LTK, the global influencer marketing platform, has partnered with Stripe, a financial infrastructure platform for businesses, to power instant, simplified and secure creator payments for the new LTK Connect self-serve solution. LTK Connect is purpose-built to empower brands of all sizes and budgets to easily build and scale programs with premier, commerce-focused creators that help drive awareness and sales. The new partnership reduces the time from completed work to payment from months to seconds for creators.
LTK has a mission to empower creative entrepreneurs - whether a creator or a brand. LTK creators drive more than $3B in retail sales annually across more than 6,000 global retail partners. With LTK Connect, many more brands, especially direct-to-consumer brands, can tap into the power of creator-guided shopping through LTK. And, creators have more opportunities to expand their brand partnerships, creating more ways to monetize their content.
Having a secure and reliable financial infrastructure is critical to the success of the LTK Connect self-serve solution. Stripe's suite of products like Stripe Connect, Stripe Billing, Instant Payouts, and more will allow for faster and simplified payments between LTK Connect brand partners and creators. Stripe Connect lets businesses facilitate purchases and payments between third-party buyers and sellers, while Stripe Billing helps companies easily manage their recurring revenue. And with Instant Payouts, companies can instantly send funds to creators' debit cards or bank accounts.
"Simplified payment flows mean that we can extend our enterprise-level influencer marketing tools to brands of all sizes and budgets, and make servicing their campaigns turn-key, efficient and seamless," said Kristi O'Brien, general manager of the Brand Platform at LTK. "Our LTK Creators are running small businesses and getting them paid efficiently not only strengthens their relationships with brands, but also means that they can reinvest in their teams and businesses sooner. Stripe's shared mission to empower creator success made them the right partner to help build this solution."
"LTK and Stripe are a perfect fit when it comes to accelerating money movement between brands and creators, especially in a time when no one knows exactly what will happen next with the economy," Lily Jolly, Creator Product Lead at Stripe. "We're proud to support the expansion of LTK's platform to grow the GDP of the internet."
LTK Connect is currently available in the U.S. For more information, please visit https://company.shopltk.com/connect. To follow the latest LTK Creator updates, follow LTK.HQ.
About LTK
LTK is the largest global digital marketing platform powered by creators. It was founded in 2011 by Amber and Baxter Box to empower the world's premium lifestyle creators to be as economically successful as possible. For the past decade, LTK has grown to become a trusted and effective business-enablement platform where creators launch, run and grow their LTK Shop. Today, more than 6,000 brands partner with LTK to gain access to its global influencer network for content that converts against performance-driven, cross-channel KPIs. A three-time honoree on Fast Company's list of Most Innovative Retail Companies, LTK drives more than $3 billion in annual retail sales from nearly 200,000 talented creators in 100+ countries. The company is headquartered in Dallas, TX and currently operates on five continents. To download the app, search for LTK in the App Store or Google Play.