With over 800 million users, TikTok has become a destination for users to engage with creators from around the globe.

Why TikTok?
TikTok is the fastest growing social media app in the world
It is attracting new demographics for brands
It has potential to drive more than engagement metrics
With more than 800M users worldwide, TikTok can not only amplify your influencer campaigns with us but when used with LIKEtoKNOW.it, can track and measure sales from your influencer marketing efforts.

Why use LIKEtoKNOW.it with Tiktok?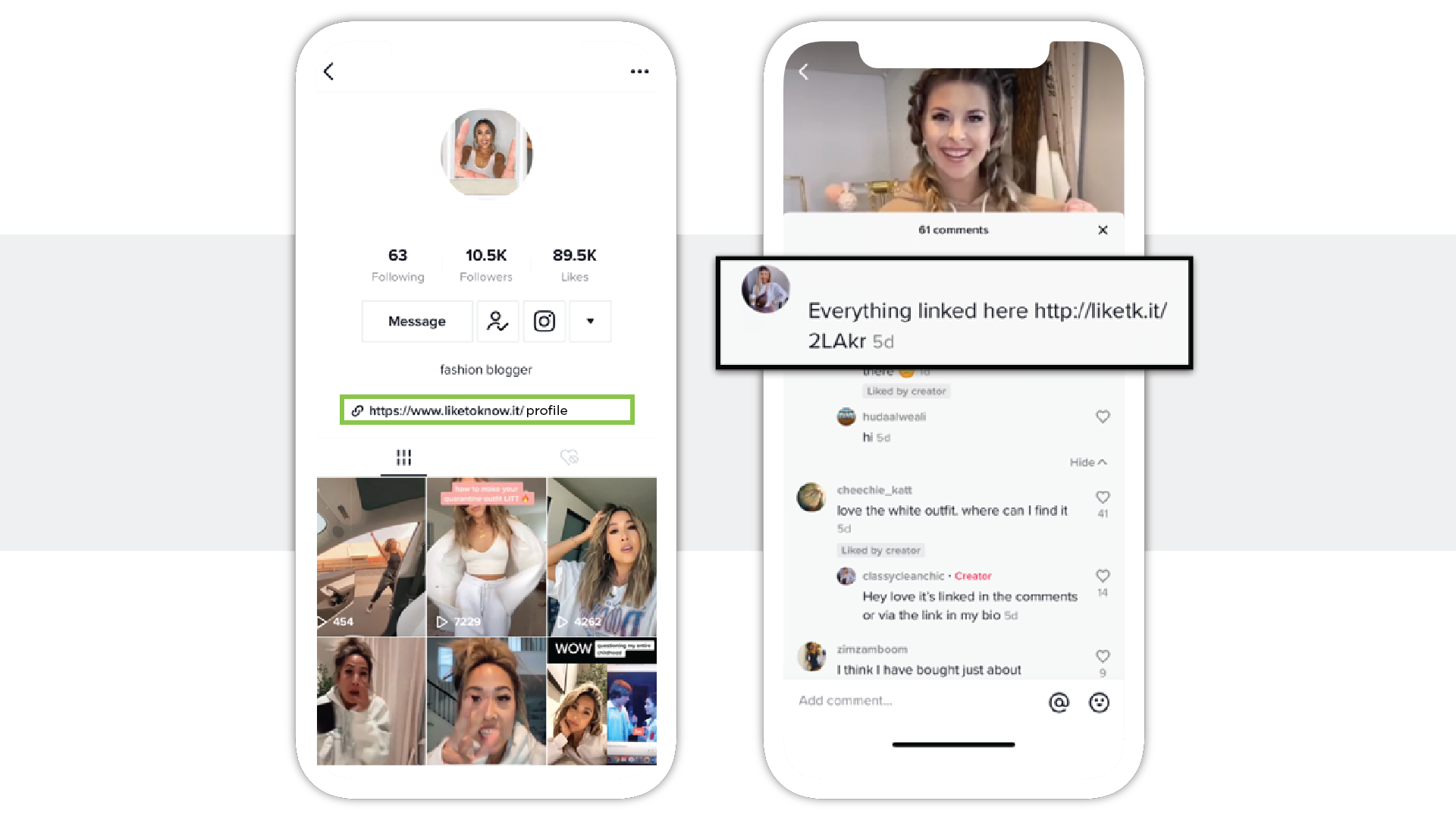 While you can expect engagement metrics from your influencer marketing campaigns on TikTok, integrating LIKEtoKNOW.it can provide an additional layer of performance you can't get anywhere else.
Likes
Comments
Shares
Overall Engagement Rate
Profile Overview*
Content Insights*
Follower Insights*
Clicks driven to LIKEtoKNOW.it**
Sales driven through LIKEtoKNOW.it**
* only available if influencer has a Pro account
** only available if LIKEtoKNOW.it is incorporated into campaign
TikTok & LIKEtoKNOW.it Strategy
Cross-platform amplification helps brands as well as influencers.
One of our influencers integrated TikTok + LIKEtoKNOW.it into her campaign and experienced 416% YoY growth in sales with the average page views hitting 18K+ a week.

Now that we have seen first hand how successful a cross-channel approach in tandem with LIKEtoKNOW.it can be realized, here are some of the most popular options for brands exploring this LTK integration strategy:
Top Picks From A Retailer
Affordable Style Picks
Sale Alerts/Weekend Sales
"How To" Style
Designer Dupes
Outfit Ideas/ Weekly Outfits
Shopping Haul
Home/Dorm Decor


Beauty + Skincare Favorites


Makeup or Hair Tutorial