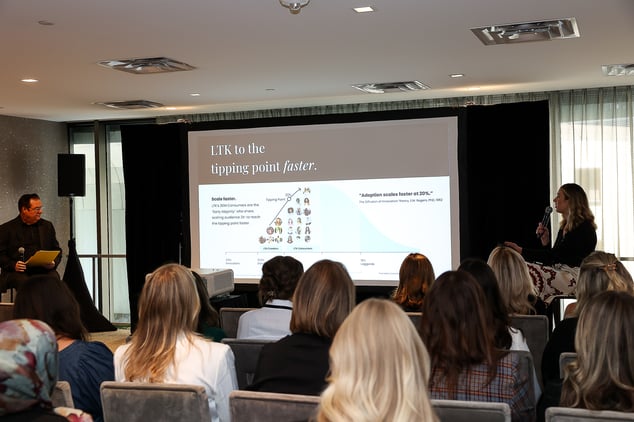 Ally Anderson, Director of Strategy and Insights at LTK, joined by Frank Dudley, Professor at Northwestern University, delivering the 2023 LTK x Northwestern Brand Study.
How to get the most out of your Creator Marketing in 2023 and beyond
LTK and Northwestern University's Retail Analytics Council conducted a research study with over 160 brands and leaders from those brands. Ally Anderson, Director of Strategy and Insights from LTK, alongside Frank Dudley, Professor from Northwestern University, delivered the results of the research study to the LTKCon Brand Insights Summit audience.
LTK is uniquely positioned, not just in the Creator Marketing or Social Media Industry, but the overall marketing landscape because of our 12 years of proprietary data and immediate access to 30 million consumers, who engage with LTK Creator content. LTK Creators inspire consumers and create trusting relationships by participating in the Creators content and amplifying Creator reach by 2X.
LTK Creator content is not showing signs of slowing down with nearly 70% year-over-year growth in LTK Consumers. Creators are more trusted by consumers than ads and celebrities. Furthermore, Gen Z and Millennials consistently rank Creators as the most trusted for shopping recommendations and 55% of the brands surveyed agreed.
The next wave of Creator marketing
One insight shared from the brand research study found that, when stacked against other channels, Creator marketing ranks #1 for investment growth, beating out paid search and paid social. 92% of respondents said Creator Marketing will have a higher budget or play an increased role in strategy in 2024.
Marketers are gaining more understanding of the power Creator marketing can harness for their brand growth and awareness. The study also found that Creator marketing budgets are positioned to outpace other digital channels specifically in verticals such as CPG, Fashion, and Beauty being the verticals projected to increase the most.
Serving the full funnel challenges
Whether it is driving brand sales, increasing engagement, or creating awareness, brands of all sizes are working to solve and address these challenges in 2024. Creators are able to drive full-funnel marketing for brands to create positive business impacts. In fact, 51% of Fashion brands and 45% of Beauty brands say that Creators improved their brand perception.
More so, we see winning brands prioritizing awareness as their campaign goals. 85% of surveyed brands who are leaning into Creator Marketing marked Create Awareness as their leading campaign goal. Resulting in upper funnel metrics still maintaining a strong importance.
Prioritizing Creator Marketing in Your Strategy
Key takeaways from the study indicate the following action items for marketers:
1. Brands and Retailers are investing more than ever in Creators building their brand
2. Creator is the top in investment growth and is funded by Digital Advertising, Email, and Owned Social Media Marketing
3. Brands are hyper-focused on growing their audience through Creator, which in turn grows brand awareness, and customer lifetime value and improves brand perception.
4. Through new technology, additional opportunities to innovate with Creators will emerge, which will grow the number of internal departments working with Creators
Ready to get started?
LTK works with thousands of brands and hundreds of thousands of Creators across more than 100 countries. With more than 30 million monthly shoppers monthly, LTK provides highly trackable sales and influencer marketing programs at scale for businesses of all sizes. Contact us to get started!
To find out more about joining LTK and partnering with Creators to drive traffic, sales, and increase brand recognition, visit company.shopltk.com.