LTK, pioneer of the creator economy and the largest global influencer marketing platform, is announcing a round of funding that values the Dallas-based company at $2 billion.
"Ten years ago, we began with a mission to make creators, like myself, as economically successful as possible," said Amber Venz Box, co-founder and President of LTK. "This investment further validates the current and future opportunities for creators around the world when they put their skills to use on the LTK platform."
LTK has been profitable for many years with strong topline growth spurred by the demand for LTK's creator-guided shopping experiences as consumers further adopted online shopping practices. In just the last year, consumers purchased more than $3 billion in fashion, beauty, fitness, home and lifestyle products from LTK creators, including sales generated through LTK Creator Shops™, the LTK shopping platform, blogs and social media handles.
"We believe there is a paradigm shift in the way consumers shop, which has highlighted the tremendous role creators play in guiding the online retail experience," said Lydia Jett, Partner at SoftBank Investment Advisers. "LTK has built a seamless shopping platform that now reaches millions of monthly shoppers in more than 100 countries. We are thrilled to be partnering with Amber Venz Box, Baxter Box and the team to support LTK's long-standing advocacy of global creators as they continue to scale."
The investment by SoftBank Vision Fund 2 will be used to expedite growth initiatives across LTK. The company plans to aggressively hire across the entire organization to accelerate growth of its three-sided technology platform with new products for creators, brands and shoppers, and to scale its international presence.
"SoftBank Vision Fund 2 shares our vision and amplifies our ambition, and I am proud to welcome them to LTK as we build the future of the creator economy," said Baxter Box, co-founder and CEO of LTK.
Upon the closing of the transaction, Angel Du, Investment Director at SoftBank Investment Advisers, will join the company's board of directors, which includes the founders, as well as directors from Maverick Ventures and Bonanza Capital.
Goldman Sachs & Co. LLC served as financial advisor and Wachtell, Lipton, Rosen & Katz served as legal counsel to LTK.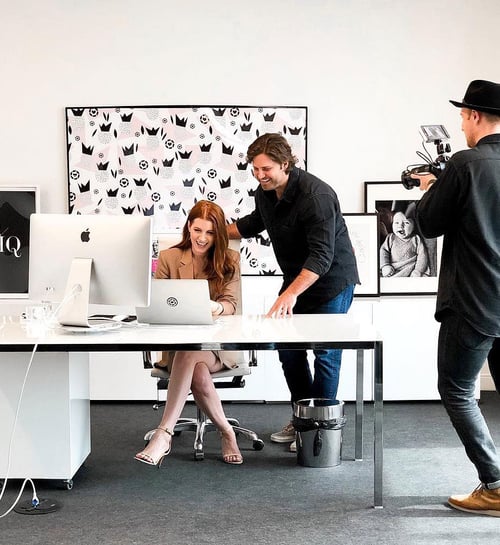 More about LTK (formerly rewardStyle & LIKEtoKNOW.it):
LTK is the largest global influencer marketing platform in the world. Founded in 2011 by Amber Venz Box and Baxter Box, the company's mission is to empower the world's premium lifestyle creators to be as economically successful as possible.
Now in its 10th year, LTK has grown to become a three-sided marketplace, serving creators, brands and shoppers. LTK is the most trusted and effective business-enablement platform for creators, powering their universal LTK Creator Shops™.
More than 5,000 retailers employ the LTK Brand Platform for performance-driven campaigns, paid collaborations and content licensing, and invested more than $1 billion in influencer marketing through the LTK platform by summer 2021.
Shoppers purchase more than $3 billion in products annually on the LTK platform and app. LTK is headquartered in Dallas, TX with teams in the UK, Brazil, France, Germany, Australia, China and South Korea and clients in more than 100 countries.
LTK pioneered Creator Commerce™:
Creator Commerce™ is a subset of e-commerce where content creators, influencers and bloggers share, promote and sell their favorite products to their followers. As the original pioneer of Creator Commerce™, LTK was founded to empower influencers to support themselves and their families by doing and sharing what they love.
The LTK platform was built for influencers who seek to grow their businesses through authentic and impactful Creator Commerce™. LTK is the most successful influencer network in the world, driving billions in annual brand purchases from over 165,000 curated creators in more than 200 countries. It attracts 8 million shoppers monthly on the LTK app and aims to grow influence, sales and positive sentiment for more than 5,000 brands.
Creators use LTK's proprietary technology platform to create, manage and grow their own e-commerce shops. Brands have taken note and work with LTK Creators to market their products and services, while creators use their bespoke storefront—their LTK Shop—to drive sales and their own earnings.