Break through the noise of other influencers by engaging with your audience to build your brand
It's safe to say Instagram is at the forefront of social media channels with more than 1.9 billion daily active users, according to Social Media Today. The 2021 LTK Gen Z Shopper Study reported that Instagram is also the top social media channel Gen Z visits influencers on and is the top social site they share shopping tips on.
Here is a breakdown of influencers on Instagram, according to the Small Business Blog:
2M to 37M with at least 1K followers
300K to 2M with at least 100K followers
20K to 40K with more than 1M followers
So how do you, as an LTK Creator, influencer and/or creator break through all the noise from the millions of influencers on Instagram to keep your audience engaged?
We've rounded up the top 7 best practices to keep your audience engaged and potentially grow that same audience. Let's take a look…
1. Post consistently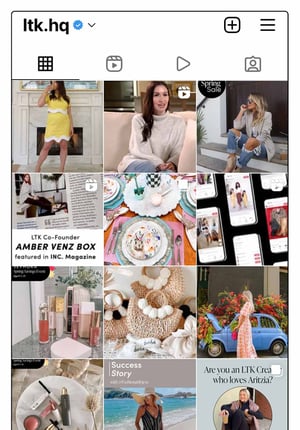 Data shows that posting 1-2 times per day is optimal, especially at the right time. This simple tactic allows your feed to stay fresh and relevant. For example, the most engaging day to post is Friday and the optimal time is 3 pm CST. Saturday and Sundays are less engaging and the worst time to post is between 5–9 a.m. CST.


2. Always use trending hashtags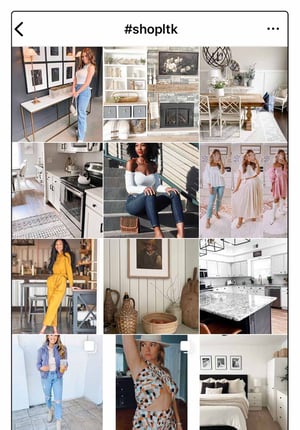 Hashtags are a strategy that increase reach, thus increasing engagement. It's important to remember to use hashtags that tap into your niche community and resonate with your content. Find trending hashtags: Check Instagram's Explore page, use a social listening tool, and follow relevant hashtags


3. Include call to actions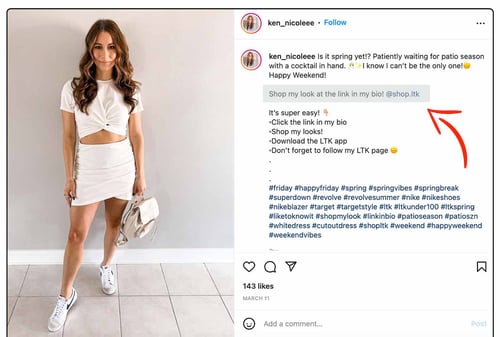 This is the easiest way to increase interaction rates and push followers in a certain direction. This simple tactic takes a passive Instagram scroller into a Creator's Shop on LTK, their digital storefront. Influencers and creators can add a link to their Instagram bio and use LTK custom templates to create Highlights that link directly to a Creator's Shop on LTK. Discover how to drive traffic and engagement with links on Instagram here.


4. Share valuable information with carousel posts
Carousel posts are the best-performing type of content. They enable the creator to tell a story and engage their audience by enabling them to swipe through the content. According to Instagram Marketing Expert Jenn Herman:
"If you use a carousel post, and a follower scrolls past the post with the first image, Instagram will show them the same post a second time with typically the second photo or video from the carousel. This gives you double the exposure opportunities."
5. Add a link to Instagram Stories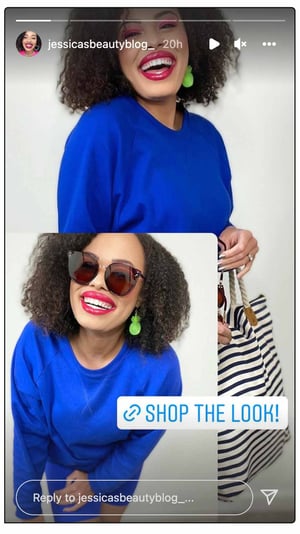 Influencers can use this feature to increase traffic to their Shop on LTK, as well as linking to specific LTK posts or Collections, which will now show as shopltk.com. The new urls will be intuitive for your followers to click and shop. Learn more about LTK Instagram Story strategies here.
6. Track and learn from your best-performing content
It's critical to have a clear idea of who your average follower is and know which brands or products speak to them the most. A great way to get to know your audience is by leveraging LTK analytics.
7. Always be authentic
Being authentic is powerful, because it enables influencers and creators to build deeper connections with their target audience. Today's Instagram users gravitate towards authentic expression and diverse perspectives, which means leaning into different verticals.
Discover LTK
Learn more about LTK by checking out: Welcome to LTK, a brief look at who we are and what we do.
Getting started with LTK is easy and only takes a few steps! Our goal is to help you grow! First, let us get to know you—head to our application page for an exclusive and complementary opportunity and start earning when you share your content.
If you are ready to become a full-time LTK Creator, we've got you covered. Discover how you can turn a hobby into a full-time business with the power of Creator Commerce™ . At LTK we power Creator Commerce™ for more than 165,000 top-tier creators, 5,000 brands across 100 countries, and more than 8 million in-app LTK Shoppers.
The benefits of owning your own Shop on LTK
Post all shoppable content to your LTK Shop where it's available to search and shop.
LTK converts followers to shoppers 3.5X more than social channels, so your time is well spent when optimizing your LTK Shop, and there is no need to re-post content over and over to capture scrolling followers. Shoppers on LTK are there to buy!
LTK is uniquely positioned to ride the inevitable rise and fall of social media platforms, leaving the control with you, regardless of evolving social algorithms.
By pioneering a proprietary ecosystem of innovative technology, strategic growth consulting, global brand partnerships, and expansive shopper distribution, we've done more than just monetize influencer marketing. We created the industry and are now defining the next decade. So what are you waiting for?
It's time for YOU to join our network of entrepreneurs.