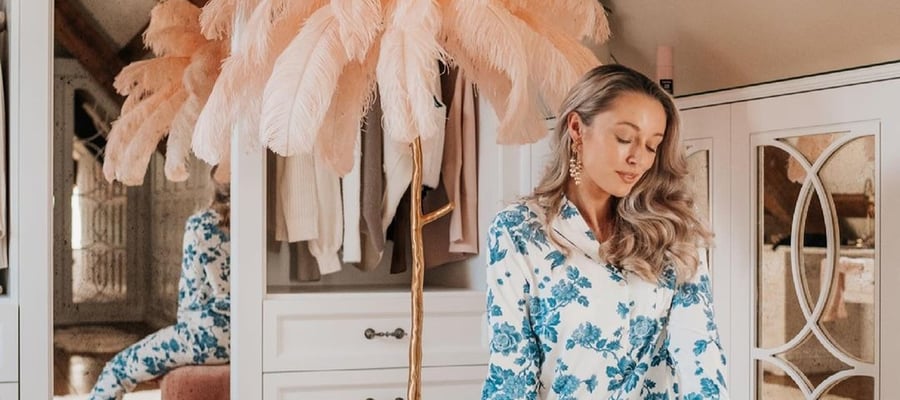 After working with more than 5,000 retailers across the world, rewardStyle's team of influencer marketing (IM) experts have come to see thousands of successful IM strategies and campaigns. Brands work with our network of top-tier lifestyle influencers to create these strategies, which effectively increase sales and ROI.
And while each strategy looks different, there are two main buckets our strategies fall into in order to create the right path for brands to grow.
1) Evergreen Strategy
An evergreen influencer marketing strategy refers to an always-on approach, in which a brand has a campaign running every month on a secured budget. It's important to note here that a brand can think long-term for their strategy and not take an "always-on" approach. With evergreen spend, though, you're not just thinking long-term, you're also making sure there is always something in play.
Evergreen influencer content does not focus on one specific launch or promotion, but rather general education and awareness of the brand. The content focuses on resharable topics throughout the year that can be repurposed easily.
Evergreen strategy is also about securing influencers for a longer period of time – a critical factor in building brand loyalty in followers. (More on this later.)
2) One-Off Campaigns
A one-off campaign is self-explanatory. It's when a brand commits to one spend for a short period of time. These campaigns are usually more aligned with a product launch, promotion, or a short sale period, such as something seasonal.
During these campaigns, an influencer posts only one time within a two-week or even month-long timeframe. Often, they are used as test campaigns and can be highly successful, especially when combined with evergreen spend. While one-off campaigns may not grant you the time to build long-lasting influencer relationships, they can still be sprinkled throughout your long-term strategy to drive great results.
The Benefits of Evergreen Spend
One-off campaigns work well as complements to evergreen spend, but evergreen spend alone has its own benefits:
Develop Long-Term Relationships with Influencers
When you commit to a long-term strategy, you commit to working with certain influencers over a long period of time to develop a great, collaborative partnership. Most often, these influencers are called brand ambassadors – those who post so consistently about your brand, their followers come to expect your content on a regular basis. Working on a long-term campaign with a brand ambassador could be anywhere from 3 months long to a year, which is a lot of time to gain the traction and loyalty all brands are looking for.
Better ROI
The longer you commit, the more results you're going to see on the bottom line. Through your evergreen spend, your brand is always top of mind, and that means you're not only being seen over and over by an influencer's dedicated followers, but you're gaining new ones each day. The more those followers see your influencer content and engage with it, the more likely they'll trust your brand for spending.
Acquire a Rich Performance Data Set
rewardStyle (rS) uses a decade of experience and their historical data to help brands determine who is right for their industry, target demographics, preferred style of content, and other brand-specific attributes. Aside from that, an evergreen strategy means you're collecting data from influencers about what converts vs. what doesn't work for your brand. You're able to stay on the pulse of an influencer's sales, as a brand ambassador may not have immediate high sales. However, over time you'll start seeing growth and increased sales at a steady rate.
This long-term commitment not only gives you the data you need to make smart influencer marketing choices, but also the time to iterate, experiment, adapt, and continue growing in markets you never expected.
More Content to Repurpose
With an evergreen strategy, influencers are constantly creating content for promotions and regular posting throughout the year. This creates a library of content that can and should be re-shared and repurposed across brands' platforms and campaigns.
How Brands Benefit from a Combination of Strategies
Many brands new to influencer marketing aren't sure where to start, and while we do have performance data to get a strategy going strong, we also recommend doing a test campaign.
You can use this as an opportunity to discover influencers you resonate with, as well as who converts. Then, as you start to think about a longer-term strategy, we'll help you secure those influencers as your ambassadors for the long run.
You can also combine strategies a different way.
During your evergreen spend, you may have a specific product launch that needs to be a completely separate campaign with separate goals. While your evergreen spend is going toward long-term sales and influencer relationships, your one-off campaign is driving home sales for your short-term goals. In other words, it's an effective method for quick amplification.
Best Practices for Your Evergreen Strategy
In the end, you're trying to drive sales at every angle, and when you use both strategies for that goal, your brand is better off. What brands want to avoid is only focusing on one-off campaigns without any other parallels. You don't want immediate results and then a dramatic decrease. Commit to the strategy long-term, and consumers will commit to you.
The key is to think and plan ahead:
Talk to your rewardStyle rep about how you optimize your top performers
Start the casting process based on performance data
Determine what you want to spend and promote for the whole year
Secure influencers with a set budget on a quarterly or annual basis
Create a timeline that makes the most sense for your brand
Run test campaigns if you're looking for new influencers
Don't try it alone. We're here to help!
Thumbnail Photo: audrey.s.bible
Ready to think ahead for the future of your brand?