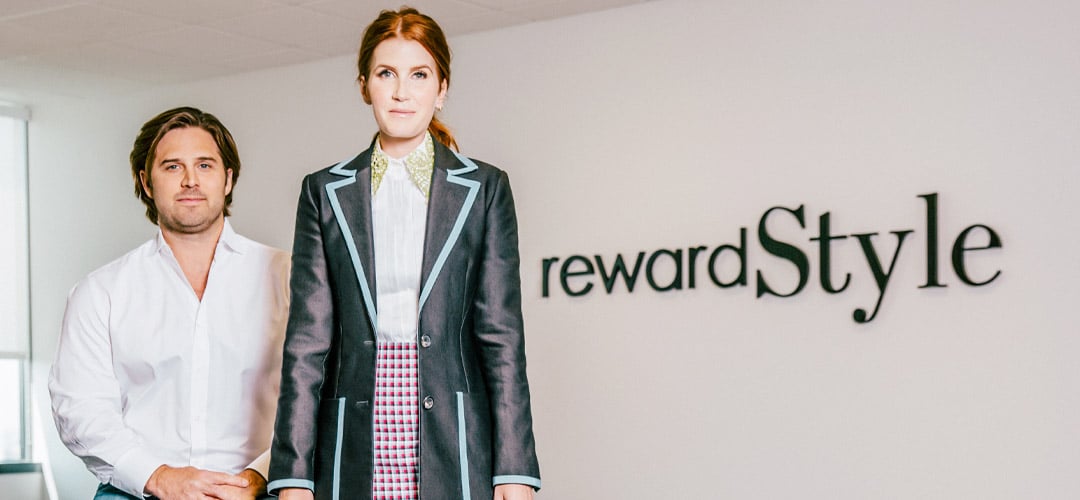 Exclusive Insights from rewardStyle Co-founders, Baxter Box, CEO and Amber Venz Box, President

In 2019, Influencer Marketing became a $7 billion industry, projected to reach near $15 billion by 2022. As it's early in the new decade, we expect influencer marketing to continue to take a larger role in a brand's marketing strategy and consume more of a brand's marketing spend.
The numbers alone show that influencer marketing isn't going anywhere, and the ways in which brands utilize influencer marketing continues to expand and grow. The engagement an influencer provides for a brand's audience yields significant results (and revenue), and has the power to transform a brand's image and reach. Looking ahead, here are the three things brands should be incorporating into their 2020 strategy.
COMMITTED INVESTMENT
Not only does commitment allow a targeted audience to engage with the influencer and product, but it ultimately will drive traffic and gross merchandise value (GMV). Brands shouldn't stop investing at a certain threshold but instead be prepared to scale with performance as you would in other channels. When it comes to influencer marketing, seeing results is inevitable with the right strategy, but it can take a dedicated investment that brands should be prepared to spend.
CMOs are right to have discussions around true ROI as the influencer industry now commands a large and growing share of annual budgets
"CMOs are right to have discussions around true ROI as the influencer industry now commands a large and growing share of annual budgets," says rewardStyle President, Amber Venz Box.
Ultimately the end goal for brands is to see results from their influencer marketing strategy, so investing and sticking to the plan will yield the best formula for increased return. Over time, the learning curve will be shortened, and brands will feel comfortable with higher investments that have proven to bring strong performance.

CULTIVATED PARTNERSHIPS
With a shift in the marketplace for more authentic content, many influencers share their daily life and the products they use consistently as content opportunities. This goes beyond product placement and ads, and instead is focused on niche categories, products or brands that feel relatable to their audience. It builds trust that's more impactful than any billboard or social media ad.

An influencer who respects, represents, and ultimately speaks authentically to the desired consumer community is the one who will bring the best results for your brand.
The influencer, not the traditional media house, has the consumer's ear now.
The audience already trusts the influencer to bring them the best of the best and faithfully follows and mimics their purchases, which is good news for brands. Therefore, casting the best influencer is one of the most critical tactics to reach the right audience and deliver performance.
Whether it's mommy bloggers, home chefs, stylists, or pet lovers, brands have the ability to speak to the right audience through influencers who engage with this particular group of people on the daily. They have a trusted group of followers who not only listen to their recommendations, but follow through with a purchase. In the end, both brand and influencer have won by creating an authentic experience from start to finish for the consumer.
According to rewardStyle's CEO, Baxter Box, "Consumers are spending 5 hours per day on their mobile device, and 92% of that time is spent inside of closed social channels. The influencer, not the traditional media house, has the consumer's ear now."
CONSISTENT PRESSURE
Utilizing an influencer for just one campaign or a single post won't drive the type of return most brands are hoping for. Just like any great relationship, it takes time to build trust and lay a good foundation. Brands should focus on building a persistent strategy for long-term success and be prepared to dedicate their dollars for the long haul.
Amber Venz Box explains the relationship between an influencer, his/her audience, and purchasing behaviors like this: "If consumers feel assured about an influencer's recommendation, they are more likely to make a purchase. In order to have an influencer authentically recommend a product, it's going to require time, effort, and some trial and error. All parties should feel confident in the story the influencer is telling on his or her feed."
Research shows that audiences need to see content more than once for it to stick; this also helps build confidence in the brand when a consumer repeatedly sees the same product promoted by their favorite influencer. As they build content for a brand (be it multiple posts or videos), the audience begins to see how the influencer trusts and recommends the product, making them more likely to make a purchase. The brand builds higher revenue, the influencer gets increased engagement, and the consumer is exposed to the best products, a win for everyone. A bold plan is key to all of this and rewardStyle can help brands build and execute this unique strategy.


Are you ready to win at Influencer Marketing? Let us help you!
rewardStyle is the only Influencer Marketing platform to measure full-funnel performance from discovery to transaction and inform and cast influencer campaigns utilizing our nine years of propriety historical performance data. We are an impactful marketing partner to over 5,000 advertisers globally and work with more than 70,000 premium lifestyle influencers, tastemakers, stylists and celebrities, across categories including fashion, home, beauty, family and more.