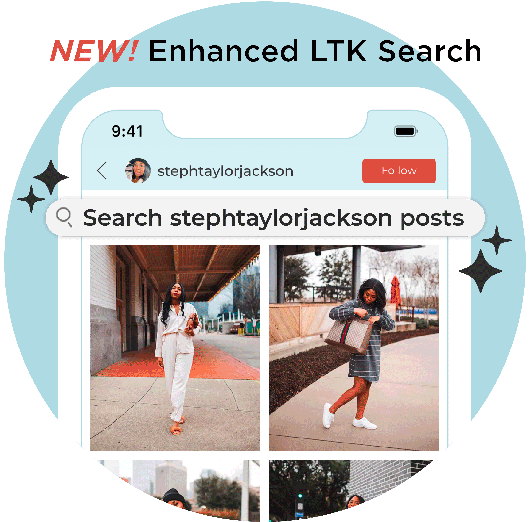 Discovery has never been easier within the LTK app! LTK app users can now search within influencers' LTK Shop to find specific products, trending items and styling tips directly from their favorite influencers. Whether you're looking to find that cashmere sweater that fits just right or the double-stroller you meant to save months ago, the search feature in the LTK Shops makes it easy to discover and resurface whatever it is you are looking for.
And, unlike other platforms where content has a limited shelf-life, LTK makes influencer content forever discoverable, so photo and video posts remain available to search and shop indefinitely — whenever you're ready to add to cart.
For a broader-based search, the new universal LTK Search feature is another option for app users to browse any item or brand published in the app -- and get 100% shoppable results created, vetted and carefully styled by the best guides to the internet. LTK Search is a universal search feature that returns comprehensive results against a keyword—based on the products tagged, the influencer's self-described content vertical, and their caption.
Shoppers can count on a dedicated, focused shopping experience within the LTK app, with access to images and videos featuring products from more than 5,000 retailers and brands across fashion, home, beauty, fitness and family—all hand-picked, styled and curated by thousands of influencers in the rewardStyle international network.
The enhanced LTK Search features are immediately available in more than 100 countries. Download the app today in the app store.