Online shopping continues to skyrocket, with e-commerce expected to make up 22% of global retail sales by 2023. Given this shifting marketplace, it's important for brands to understand consumer shopping behaviors so they can pull the best marketing levers to reach their ideal target audience.
According to a recent LTK study, Creators are now the most influential drivers of purchase decisions online, above brands, retailers, celebrities, and store associates.
We spoke with Abercrombie Brands' Head of Global PR & Influence, Cory Weaver, Ph.D, about how they've leveraged influencer marketing to communicate with their audience:
"It's one thing for a brand to say who they are, it's another thing for people to see it on the accounts and feeds of the Creators they implicitly trust."
Cory Weaver, Ph.D, Head of Global PR & Influence, Abercrombie Brands
The LTK study revealed 3 key insights about online shopping:
Insight #1:
Social and mobile shopping habits of women and men are becoming increasingly similar
The gap is closing in the online shopping habits of men and women, as the majority are now not only doing most of their online shopping from their phones, but are more influenced than ever by the people they follow on social media.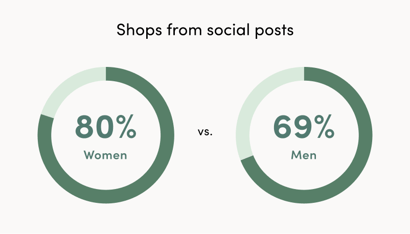 Insight #2:

Convenience is why people are shopping online

Convenience is the top reason people choose to shop online, followed by selection and price. Each brand has a unique set of attributes to communicate with consumers, and communicating that unique story to consumers is becoming more important to remain competitive.
Insight #3:

Social media is inclusive of all audiences

The second reason consumers visit social sites is to seek tips and advice from social media influencers, just behind sharing with friends and family.

Why consumers visit social sites:
To post and share things they like with friends and family

To seek tips and advice from social media influencers

To stay updated on friends and family news

To find deals

To be entertained

To keep up on the news





"What's important for brand marketers to understand is that a Creator's audience can be just as important as the Creator themself. Not only are Creators driving significant trackable sales, but their followers are amplifying their reach and sales through reposts of their own."

Rodney Mason, Head of Marketing, LTK Brand Partnerships

With the rise of Creator-led shopping, influencer marketing is a strategy that brands of all sizes can't afford to overlook. By tapping into Creator audiences, brands are finding success in driving traffic, awareness and sales in an authentic way.
Watch the on-demand webinar for further insights on this study and to hear from our panel of experts from LTK, Abercrombie, Summer Fridays, and Lone Fox on how to tap into the power of influencer audiences.
LTK's Creator-powered platform centers your brand in the context of influencers' lives while capturing 10+ years of unmatched Creator-level data to take the guesswork out of influencer marketing. Contact us to learn more.
Drive Growth, Increase Customer Loyalty with LTK
Ready to learn more about current trends and strategies needed to react positively to those trends? Check out our Best Channels for Influencer Marketing.
To find top-performing Creators, manage end-to-end campaigns, boost reach, and track the success of your influencer marketing campaigns, you'll need a platform that enables brands to manage all of this in a single space. LTK's full-service to self-service influencer marketing platform and five-star shopping app with millions of shoppers grow influence and sales for 5k+ brands of all sizes.