Introducing the newly-enhanced LTK Search feature! LTK Search is the only search engine that returns image results in the context of real, influential people's lives—where every image is 100% shoppable.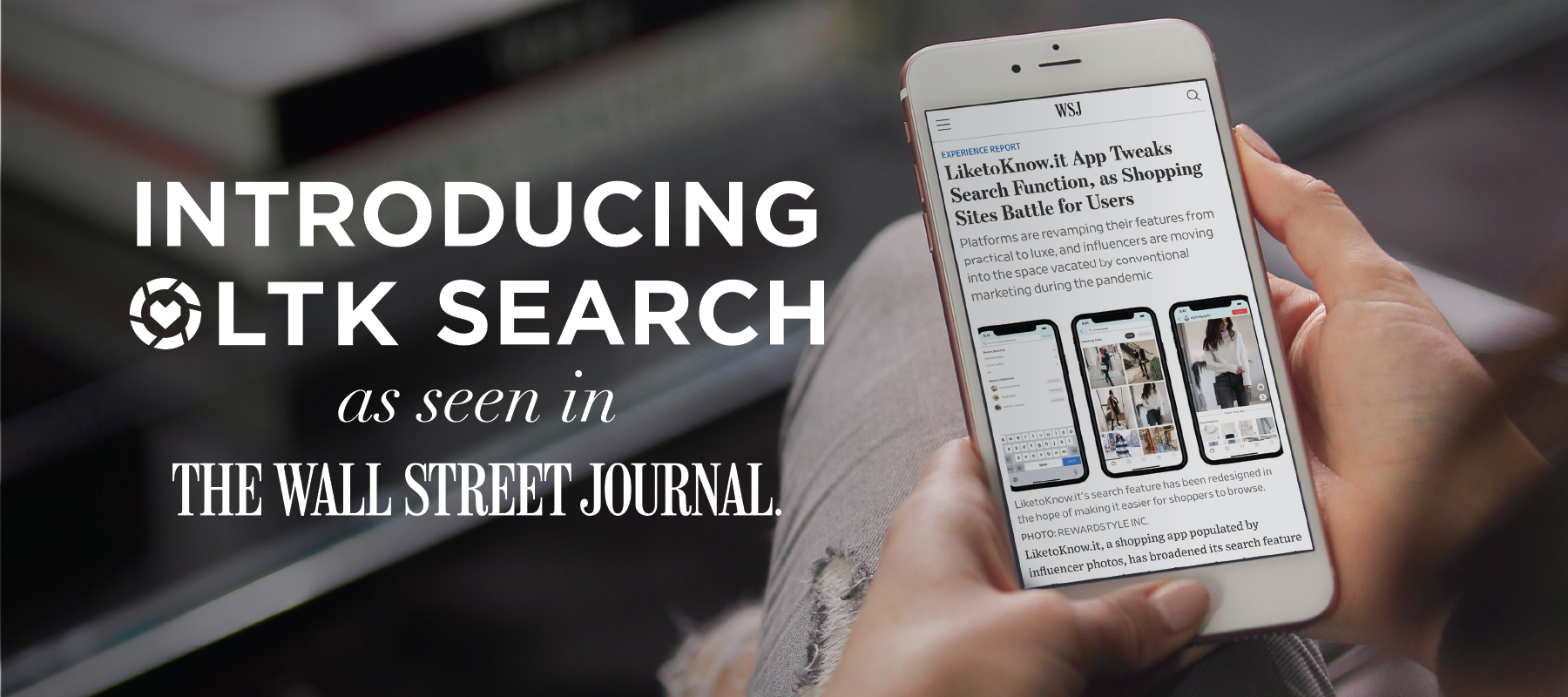 LTK Search uniquely produces image results that show a product or trend in context—a blazer styled in a full look by a plus-size influencer; a marble tulip table in an NYC studio apt; bronze highlighter on an influencer's face. And, as with all LIKEtoKNOW.it posts, products featured within the search results are tagged and listed at the bottom of the post for consumers to instantly shop, save, or share.
"The LTK shopping app connects consumers with the best shopping guides on the internet: Influencers. With IRL shopping curbed and consumers spending more time on their phones than ever before, influencers are playing a critical role in curating the best of the internet for their followers and taking all of the work out shopping. The new LTK Search is a total game-changer for today's mobile shopper because it makes discovering millions of products, trends and influencers easy and instantly shoppable."

Amber Venz Box, co-founder and president of rewardStyle & LIKEtoKNOW.it
WHAT IS IT?
LTK Search is to be used like any other search engine, but instead of returning ads or lifeless product shots, you get image and video results of real, influential people wearing, styling and reviewing the product, all of which are linked to shop.
The new LTK Search is a universal search feature that returns comprehensive results against a keyword—based on the products tagged, the influencer's self-described content vertical, and their caption. LTK Search returns 100% shoppable image results that feature the product or trend searched by the user.
In addition to returning contextual results for products and trends, LTK Search will also return influencer results. For example, if you search "La Ligne" in the app, the results will also aggregate a list of all of the influencers who wear La Ligne so you can quickly discover influencers to follow that fit your life and style. This is another feature that is exclusive to LTK and powered by our proprietary database of influencer content, and the unique shopping tags they apply as they publish through our tools every day.




HOW IS IT DIFFERENT?
Previously, users came to the LTK shopping app to browse content from the influencers they followed. However, as more and more shoppers began using LTK to search for everything from fashion trends seen on their favorite TV shows to gift guides for the holidays, we saw the need to overhaul the search experience and make it easier and more efficient for consumers to find products, trends and influencers all in one search.

The new universal LTK Search feature is now a core functionality of the app and can be found at the top of every app screen, making it the most prominent feature for shopping.


WHAT WILL I FIND?

LIKEtoKNOW.it shoppers can browse images and videos featuring products from more than 5,000 retailers and brands across fashion, home, beauty, fitness and family—all hand-picked, styled and curated by the thousands of influencers in the rewardStyle international network.
LTK Search is immediately available in more than 100 countries. Download the app today in the app store.