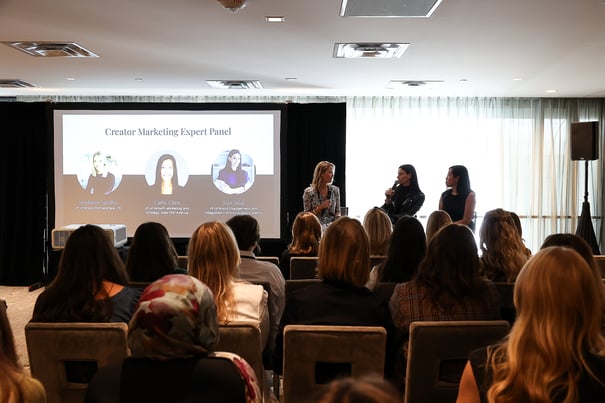 Stephanie Sandbo, VP and Head of Brand Partnerships at LTK, joined by Cathy Chen, VP of Growth Marketing and Strategy at Saks Fifth Avenue, and Julie Selig, Head of Brand Engagement and Integrated Communications at Kiehl's.

Fireside chat with experts in Creator Marketing from Saks Fifth Avenue and Kiehl's
During the 2023 LTKCon Brand Insights Summit, attendees had the unique experience to hear directly from two leaders in Creator Marketing industry. Cathy Chen, from Saks Fifth Avenue and Julie Selig from Kiehl's, joined in on a fireside chat and transparent conversation with LTK's own Stephanie Sandbo. The discussion touched on navigating their brands during uncertain times, leaning into Creator Marketing by developing relationships with Creators, continuing to test and learn in market and their take on where the industry is heading.
Creator Marketing in Uncertain Times
No matter the industry, or team you sit on within an organization, its been a challenging year for many that has kept us on our toes. Research has shown that both the luxury and beauty industries are the least impacted verticals during economic headwinds. Both Saks and Kiehl's sit within these verticals and they shared how their organizations have looked to Creators to drive business impact this year.
Chen and Selig credit the relationships they have built with Creators, who have trusted and loyal followings, to navigate their way this year and do it in a way that really resonates with their audiences. Both teams leaned on the LTK team to assist with their goals and challenges and evolve their programs this year.
Full funnel Creator Impact
Creators are a driving force of performance strategy at all phases of the marketing funnel, and it is known they can make a real impact to businesses and are a part of many team's digital marketing strategies. Working with Creators can also come with many internal business efficiencies as an added benefit. Some efficiencies include, supporting multiple teams internally by leveraging the content from Creator partnerships for brand or social teams.
Regardless of the stage of the funnel, consumers are aware that trends will come and go. However, Creator Marketing can create authentic, real storytelling for brands and ways many brands, like Saks and Kiehl's, have found success. By leaning into Creator Marketing Chen learned, "As you grow relationships with Creators, it gets easier to relinquish control a little bit but knowing that is incredibly important and very powerful."
To establish effective brand marketing and reach to consumers, incorporating the element of human touch in a brand's Creator marketing can make a significant impact. By establishing a genuine connection with consumers, brands have the opportunity to create breakthrough moments that foster loyalty and long-lasting trust for consumers. From our research study conducted with Northwestern University, it was found that brands are hyper-focused on growing their audience through Creator, which in-turn grows brand awareness, customer lifetime value and improves brand perception.
Future State and the next wave of Creator Marketing
Both leaders discussed the future state of the industry and how Creator Marketing will play a role. Julie said, "We have teams that are looking five to ten years out, so that is really unique to us. And we at Kiehl's, raise our hand quite often, and we can really lead the charge because we know we want to be the first adopters, we want to be social first and we want to be a sustainable brand."
For Cathy Chen from Saks, she said, "I think Creator Marketing will only become more and more important...I truly do believe it." She went on to comment on the importance of dynamic marketing while continuing to test, learn and evolve. "With partners like LTK, we are always looking at new voices to bring into the brand and assessing the landscape that could be great for our brand, and always testing that."
As both Cathy and Julie expressed their insights on the industry and the role of Creator Marketing, it is clear there are continued opportunities for brands to engage and grow their brands by working with LTK Creators.
Interested in learning more?
LTK works with thousands of brands and hundreds of thousands of Creators across more than 100 countries. With more than 30 million monthly shoppers monthly, LTK provides highly trackable sales and influencer marketing programs at scale for businesses of all sizes. Contact us to get started!
To find out more about joining LTK and partnering with Creators to drive traffic, sales, and increase brand recognition, visit company.shopltk.com.