Introducing, LTK Shopping Video! A new way to search, discover, and shop your favorite items in the LIKEtoKNOW.it shopping app -- all in the context of your favorite influencers' lives!

At LIKEtoKNOW.it, we are all about shopping, and LTK Shopping Video makes that experience even more dynamic, giving users a virtual front-row seat to millions of products styled and curated by all of their favorite creators.
LTK Shopping Videos are high-value content and make it easier to get inspired, learn and purchase with confidence! From beauty how-tos and home tours, to outfit try-ons and product reviews, consumers can expect beautiful, short, educational videos all made 100% shoppable in the LIKEtoKNOW.it app.
WHAT IS IT?
LTK Shopping Videos are made for the mobile, online shopper who's on a mission. This new feature takes shopping to a whole new level with richer content, insider info about product origin, quality and selection, and 360 degree context.
LTK Shopping Video brings you videos that are not only shoppable, but also:
Educational how-tos: How to apply false lashes or how to style a tabletop
Helpful advice on products, brands or outfits:Tips about fit, quality, styling tips and more
Micro tours: Home renovations, closet reorganizations, and brief DIY lessons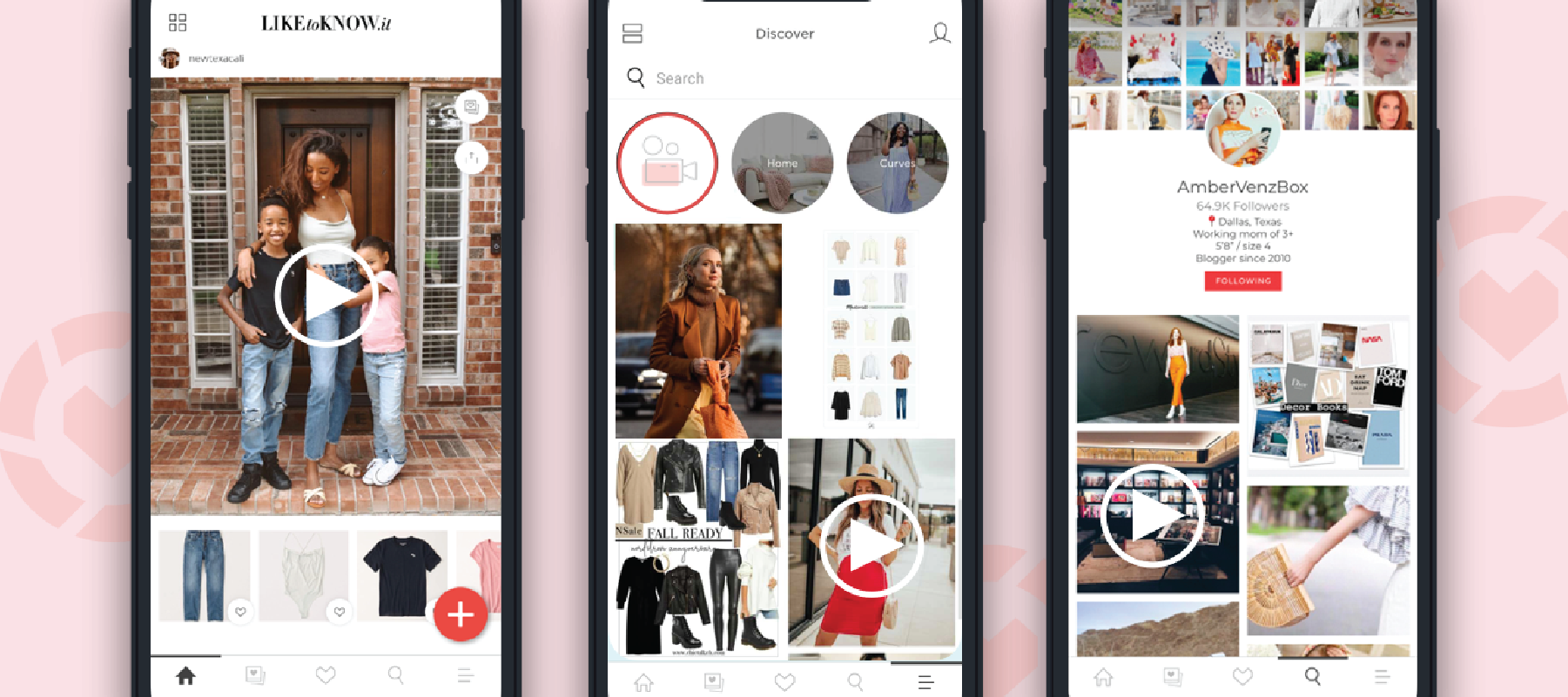 HOW DO I SHOP IT?
As with all LIKEtoKNOW.it posts, products featured within Shopping Videos will be tagged and listed at the bottom of the video for consumers to instantly shop, save, or share.
LTK Shopping Videos will appear all throughout the LIKEtoKNOW.it shopping app, including:
In the home feed
In "suggested video" interstitials of influencers to follow
It will live in the dedicated Video bubble on the discovery page, as well as within the categorized discovery bubbles
Videos will show up in product search results
And of course, on influencers' profile
WHAT WILL I FIND?
LIKEtoKNOW.it shoppers can browse images and videos featuring products from more than 5,000 retailers and brands across fashion, home, beauty, fitness and family -- all hand-picked, styled, and curated by the thousands of influencers in the rewardStyle international network.
LTK Shopping Video will be immediately available in more than 100 countries. Download the app today in the app store.
Reach out to rewardStyle at Hello@rewardStyle to learn more about incorporating LTK Shopping Videos into your influencer marketing strategy