As many marketers tighten their budgets amid economic uncertainty, influencer marketing remains resilient. In fact, many industries are starting to spend more money on Creators, and many marketers are turning towards TikTok.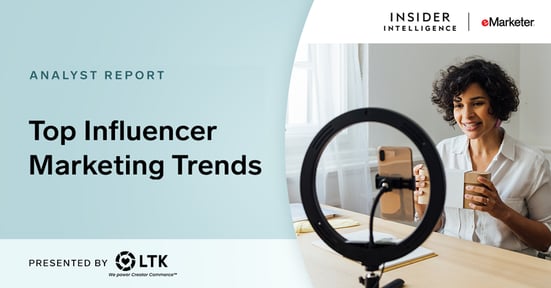 Industry Forecast Overview
According to a recent eMarketer report presented by LTK, US marketers are expected to continue to increase their spending on Creator partnerships - with more of those dollars going to TikTok. While Instagram will remain a top platform for influencer marketing dollars, TikTok is forecast to overtake Facebook in 2022 and YouTube in 2024.
Brands will continue to tap Creators for ad creative as a more affordable and sometimes more effective option than traditional ads. The authenticity of influencer content tends to resonate well with audiences as it blends in with organic social content and is overall less disruptive. In addition, influencer marketing may actually benefit from some of the macro challenges facing social advertising, helping marketers better reach audiences and optimize campaigns.


Opportunities for Marketers
What's the number one 2023 recommendation for marketers looking to engage in influencer marketing? Take a video-first approach to content. Static posts aren't going away, but more and more social platforms are prioritizing video content. TikTok is a platform that can no longer be ignored, and marketers should consider focusing strategies on Instagram Reels and YouTube Shorts.

Get All The Insights
Download a complimentary copy of the "Influencer Marketing" analyst report for eMarketer's forecast, best practices for monetization and measurement, as well as trends and growth projections for this key marketing channel.



LTK's creator-guided shopping platform drives billions in brand purchases from the largest curated Creator community in 100+ countries. Contact us to learn more and get started today.