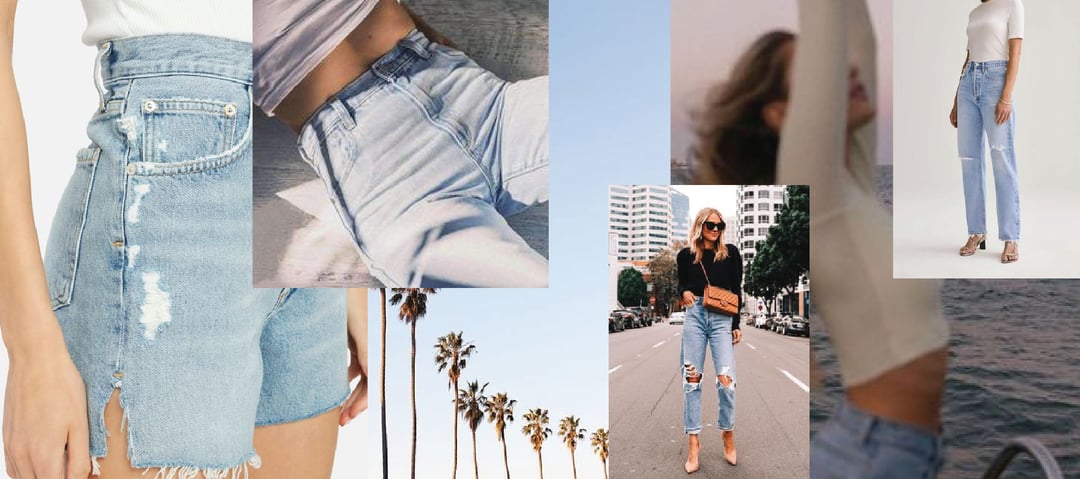 To have a successful brand-influencer partnership for a campaign, there has to be open communication about expectations and vision. Similar to how you take a photo to your hairstylist for an idea of what you want, brands need to provide a mood board for their influencers, per campaign.
This gives the influencer some guidance for their content and promotes authenticity— all while leaving them creative freedom to interpret your vision and vibe in their own way. Here's everything you need to know about creating the most effective mood board to convey your vision.
THE PURPOSE OF A MOOD BOARD
A mood board is essentially your brand's style guide. An influencer can't know what you're looking for as a brand if they don't have a visual that points to a specific aesthetic. A mood board not only helps the influencer accomplish their task, but it creates a flow of input between the brand and influencer about how the vision coincides with the influencer's personal brand.
Ultimately, a mood board:
Eliminates friction between brand and influencer

Sets the tone for the campaign

Allows for questions or clarifications around theme

Helps avoid misunderstandings

Helps translate descriptors

Puts a visual to something that can't be described in words

Keeps things on-brand, while inspiring the influencer
If an influencer is not in sync with the mood board — though this rarely happens — it opens the conversation on a whole other level, providing an opportunity to re-evaluate the fit.
In this way, mood boards act as a catalyst for total understanding and alignment and on occasion, that means shifting focus to an influencer with content closer to what you're looking for as a brand. That way you ensure the partnership stays profitable both ways.
WHAT TO INCLUDE
Every mood board is different, especially since they change from campaign to campaign. Some brands have more detailed ones than others, but every mood board can incorporate a compilation of images, text, direct links, textures and colors — any visuals or examples that inspire the influencer toward your goals.
One important thing to remember here: the mood board is not the time to provide the influencer with detailed requirements or specifics. This creative display is used only to reiterate some of the general themes and overall objectives in the contract, rather than giving the influencer two separate long written documents.
It's all about high-level inspiration for the feeling you want to capture in their content. If you're looking for a minimalist aesthetic, include something with simple, clean lines and no clutter. If your brand leans toward tropical colors or the outdoors, bring in a nature image.
Keep it simple and not too literal, as detail is meant for the contract.
MOOD BOARD VS. CONTRACT
Making this distinction will not only help you create the best mood board for your brand, but also takes pressure off of you to incorporate every detail. Leave the in-depth details to the contract, where you outline the legally binding characteristics and requirements for the partnership — things like a shot list, certain words they can or cannot use, or a timeline.
Another reason to keep your mood board simple: you avoid including anything that is conflicting with what's in the contract. In other words:
Your contract = source of detailed requirements
Your mood board = visually supportive content
Use your contractual goals to inspire your mood board. What key demographics or regions are you targeting for your campaign? What products are you promoting, and how do those impact the images of your mood board? Are there one or two words that fuel the tone for your campaign — not a word they need to use, exactly, but a word that inspires the purpose of the campaign, such as "freedom" or "explore."
Your mood board can also incorporate footnotes that explain the use of something a little further — like what "edgy" means to you vs. the influencer — but again, this isn't the time to over-explain or provide specifics.
This can be a fun process for the everyday creative, but when brands are so busy already strategizing their marketing spend, it can get overwhelming. A partner in this process is invaluable and can help guide and facilitate your brand in the right direction.
WE'LL HELP YOU AVOID ANY AND ALL PITFALLS
The main takeaway here is to let your mood board encapsulate your contractual directive into a visual. And the good news is, you don't have to do this alone. Let us help you facilitate your contract so you get everything on paper before starting on the creative side.

With our network of 100K+ performance-driven influencers and more than 5,000 retailers across the globe, we have perfected influencer marketing and everything that goes into it, down to the details, like a mood board. We'll help you thrive as a brand with the right influencers and help avoid mistakes that are common when working on a campaign without a partner.
In the mood to grow your brand? We'll get things moving for you.