Creators become pivotal across marketing channels as sales from short-form video triple, influencer-generated content outperforms and consumers prefer authenticity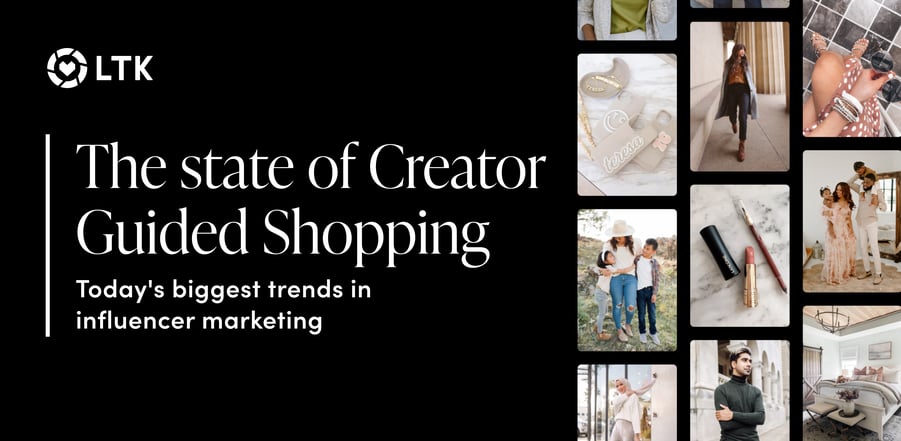 Over the past year the influencer marketing industry remained resilient and continued to grow in its role and impact for marketers, reaching an estimated value of $16.4 billion1. And, in 2023, the creator marketing industry shows no signs of slowing down. LTK, the creator-guided shopping platform and global creator marketing platform, today released its State of Creator Guided Shopping Trends Report to help brands as they look to harness the power of creators to grow their business.

Creators at the core of marketing
As marketing budgets evolve this year, more marketers will look to creator content at the core of their marketing efforts because of its efficiency and effectiveness. Brands are looking to find efficiencies for their budgets and creators are helping them do that across the entire marketing organization. Creators are playing a role in everything from driving awareness, converting sales, and building loyalty. In addition, creator data is now being used to make product selections, inventory decisions, and measuring long term consumer brand sentiment.

Brand investment in LTK Creators continued to increase last year with brand campaigns growing nearly 50% in the second half of the year. And, in 2023, U.S. influencer-marketing spend is expected to exceed $6 billion from $4.99 billion last year2. The investment growth in creators is because of the full funnel impact and strong return on investment.
Continued surge of short-form video
Even after the rise of short-form video in the last year, it is set to continue to accelerate in 2023. In LTK's new report, LTK Creators in 2022 more than doubled the number of posts with video content on the platform compared to 2021, and posts with video saw the strongest sales lift year over year - driving 3X the sales growth over still images. According to the LTK study, 66% of consumers prefer video content over still images on social media, and 73% of Gen Z watch creator videos. That's why short video campaigns are up 5X year over year.

People are turning to snackable video content for product demonstrations and recommendations because of the ability to share a more realistic depiction and understanding of the product from multiple angles. In 2023, creators will lean in and look to offer their followers more educational and informational reviews on products in short form.

Influencer Generated Content (IGC) takes a leading role
Brands are sold into the authenticity of creators especially with key demographics like Gen Z as 92% of Gen Z rely on influencers to inform their purchases across virtually every category3. In turn, brands are leveraging creators' content for multiple formats and platforms. LTK found that Gen Z and Millennials rank influencer content over brand and even user-generated content when making a purchase decision.

This year, marketers are developing full strategies to repurpose creator content across social, print and in-store channels, as creator content is authentic, effective and cost-efficient. In 2023, more creator content will be leveraged across channels beyond traditional social platforms to maximize investments.

Creator marketing is bridging the gap between brands and consumers and shortening the distance from inspiration to purchase. As marketers look to 2023, creators will be the foundation for their efforts - social and beyond.
These are just some of the key trends from the report. For the full State of Creator Guided Shopping Trends Report, please visit company.shopltk.com/state-of-creator-guided-shopping.


About LTK
As the founder of creator guided shopping, LTK is the trusted and effective platform for creators and their businesses by powering the connection between content and commerce. Founded in 2011 by Amber and Baxter Box, the LTK mission is to empower creators to be as economically successful as possible. World premium lifestyle creators in 150+ countries drive more than $3.6 billion in annual retail sales through their LTK Creator Shop profiles. Today, more than 18 million consumers turn to LTK Creator Shops in the LTK shopping platform each month to find inspiration and instantly shop the styles recommended by their favorite creators. And, more than 6,000 brands partner with LTK to gain access to its global creator network for content that converts against performance-driven, cross-channel KPIs. A three-time honoree on Fast Company's list of Most Innovative Retail Companies, LTK is headquartered in Dallas, TX and currently operates on five continents. To download the LTK shopping app, search for LTK in the App Store or Google Play.
For the latest LTK Creator updates, follow LTK.HQ, and for the latest shopping trends and updates from LTK, follow Shop.LTK.
1According to Influencer Marketing Hub: https://influencermarketinghub.com/influencer-marketing-statistics/
2Insider Intelligence: https://www.insiderintelligence.com/chart/257953/us-influencer-marketing-spending-2019-2024-billions-change?_ga=2.8732661.1190145458.1673279101-1994879309.1647957380
3LTK Study from 2021 https://www.businesswire.com/news/home/20211019005053/en/LTK-Study-Reveals-Influencers-are-the-Single-Most-Important-Online-Purchase-Driver-for-Gen-Z-Adults