75% of Gen Z Purchase From Creator Recommendations; 79% of Gen Z's Shopping Originates from Social Media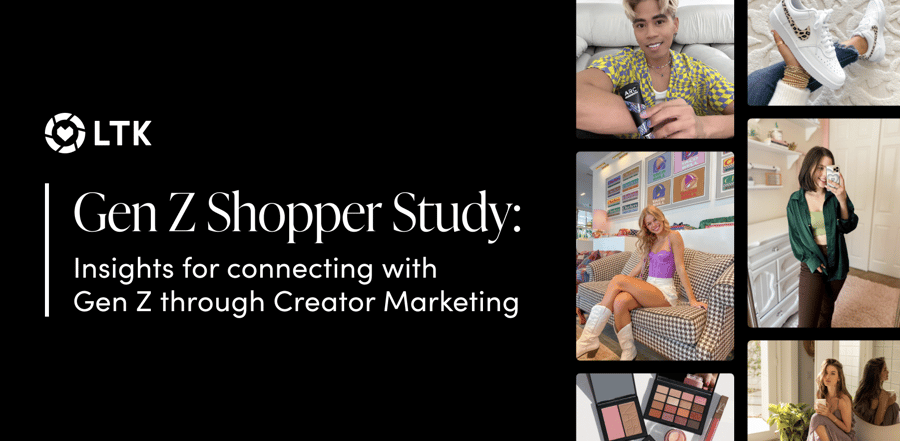 LTK, the global creator marketing platform, today released its latest Gen Z Shopper Study, uncovering shopping behaviors and trends of the generation that will make up the largest consumer segment in just a few years. According to the new report, creators are driving a majority of Gen Z's shopping decisions online and in stores with 75% of Gen Z saying they make purchases online from creator recommendations (21% higher than the general population) and 77% are now shopping in store from creator recommendations.

Social commerce has had a major impact on Gen Z shopping behaviors, and we expect this only to continue as LTK found 79% of Gen Z's shopping originated from social media.

Gen Z Trusts Creators
The study also found that creators are the most trusted on social media by Gen Z with the overwhelming majority saying they trust creators more than social media ads and celebrities. In fact, creators are 3.5X more influential to Gen Z consumers than social media ads.

Gen Z also said that they follow creators because of their authenticity, personality and relatability, and when asked why they turn to creators for style and shopping recommendations, the top reasons include - authenticity for style and product quality, discovery of new products and brands and authentic opinions on fit.

Creators Helping Gen Z Reduce Returns
Creator guided shopping is having an impact on post-purchase confidence as well. Nearly half of Gen Z reported they are less likely to return an item after seeing a creator describe it in their video content, showing the impact creator guided shopping has had on purchase satisfaction.

Gen Z & Microinfluencers
Gen Z shoppers are represented by various lifestyles and have found connections with micro influencers for recommendations to better represent their unique interests and styles. According to LTK's report, micro influencers with a following of 10,000 to 100,000 are just as popular as macro influencers with a following of 100,000 to 1 million.

Gen Z Shopping Preferences
As for the brands they shop, the top factors they consider are - trendy & budget friendly (63%), those with an environmental impact (43%), and re-sale companies (33%). And the top categories Gen Z is looking to creators to help with recommendations are beauty and personal care, fashion, food, electronics, cleaning supplies and gaming.

As we approach the summer season, the study also reveals the top summer shopping trends for Gen Z include shoes, makeup, jewelry, skin care, shorts and swimsuits.

For the full 2023 Gen Z Shopper Study, please visit https://company.shopltk.com/wbn-genz-shopper-study-2023.

The Gen Z shopper survey and in store shopper study were conducted in March 2023 among 1,104 participants and 1,079 participants, both reflective of the US population with 97% confidence.


About LTK
The LTK creator guided shopping platform is the pioneer in the industry. LTK is the trusted platform for creators and their businesses by powering the connection between content and commerce. Founded in 2011 by Amber and Baxter Box, the LTK mission is to empower creators to be as economically successful as possible. Premium lifestyle creators in 150+ countries drive more than $3.6 billion in annual retail sales through their LTK Creator Shop profiles. Today, more than 20 million consumers turn to LTK Creator Shops in the LTK shopping platform each month to find inspiration and instantly shop the styles recommended by their favorite creators. And, more than 6,000 brands partner with LTK to gain access to its global creator network for content that converts against performance-driven, cross-channel KPIs. A three-time honoree on Fast Company's list of Most Innovative Retail Companies, LTK is headquartered in Dallas, TX and currently operates on five continents. To download the LTK shopping app, search for LTK in the App Store or Google Play.
For the latest shopping trends and updates from LTK, follow Shop.LTK on Instagram and TikTok.