The holiday season is traditionally the busiest time of the year for shoppers and retailers alike. As creator commerce revolutionizes the retail experience, consumers are changing the way they approach their holiday shopping. The new LTK Holiday Shopper Study reveals insights into the evolving behaviors, trends and preferences as we head into the biggest shopping season of the year.

Ready to Shop: Early Bird Shopping Increases
According to the new study, shoppers are eager to get an earlier start to their holiday shopping than in 2022. A significant 38% of the population is planning to start holiday shopping in September, a 25% increase from last year. Shoppers who turn to creators for shopping inspiration also plan to shop earlier this year, with 45% planning to start in September.

Spending Expectations: High Consumer Confidence
Despite economic concerns, consumer spending shows no sign of slowing down. The majority plan to spend more or the same this year across gifts for others, home decor and self-gifting compared to last year.

Interestingly, the study revealed that those who regularly shop from creators plan to spend more across all categories. 86% of shoppers who turn to LTK Creators plan to spend more or the same on gifts compared to last year. That's nearly 10% more than the general population. LTK platform data aligns to this trend - last holiday season, LTK saw a nearly 10% increase in sales per LTK app shopper, and results from the first half of 2023 suggest a similar trajectory for the holidays this year.

Savvier Shoppers: Value in Savings and Quality
During the holidays, consumers are motivated to take advantage of major sales. This year, 42% of the general population plans to save money with Black Friday and Cyber Monday sales, marking a 35% increase from last year.

However, for consumers that shop from LTK Creators, the priority isn't price alone. The study found these shoppers rank quality as the top factor when holiday shopping, with brand, availability and convenience all ranking higher than price. However, 62% of these shoppers still plan to take advantage of Black Friday and Cyber Monday sales.

Holiday Shopping Inspiration: Increased Trust in Creators
The report also revealed that creators are now the most trusted source of holiday shopping inspiration among Gen Z and Millennials. Creators have surpassed social media ads and celebrities in trust, and within just one year, there has been a notable 32% increase in millennial shoppers choosing creators as their go-to source for the holidays.

Creators don't just inspire shoppers though - they are driving notable sales. LTK Creators drive more than $4B in annual retail sales. An overwhelming majority of shoppers make purchases from creators now - 73% of Gen Z, 69% of Millennials and 57% of the general population.

Creators have an influence on a wide variety of holiday behaviors, from the gifts they buy for others to holiday cooking and even family traditions. LTK found that a staggering 9 in 10 shoppers who rely on LTK Creators for holiday inspiration have purchased a gift based on their recommendations.

Top Gifts for 2023: Entertainment and Beauty Top the Lists
This year, entertainment-focused gifts like music, books and games are the top picks among the general population, Gen Z and Millennials. Fashion items are the preferred gift to give among the general population and Millennials, while Gen Z leans towards gifting beauty products. Not surprising given 78% of Gen Z women rank creators as their top source for beauty recommendations.

When it comes to self-gifting, beauty products take the number one spot across the board.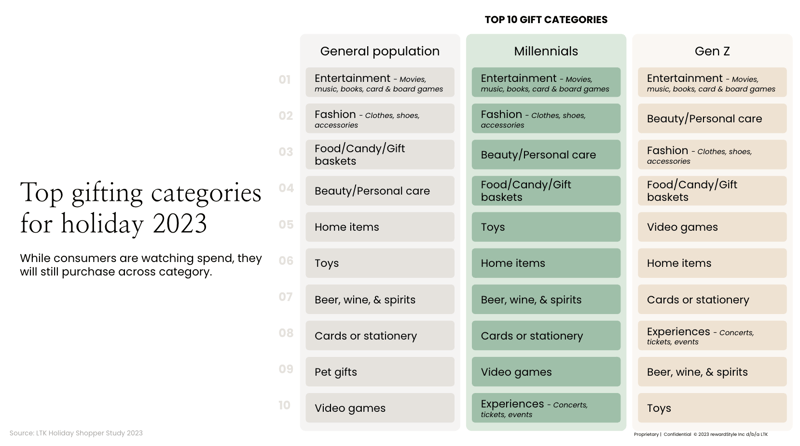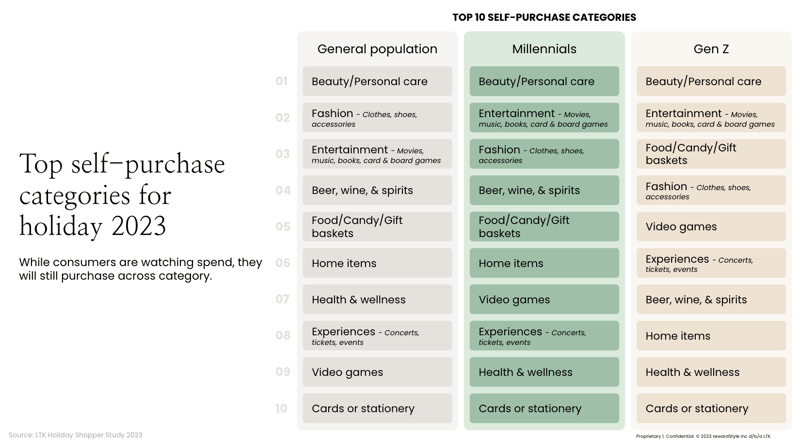 The reported data is from a survey conducted in June 2023 among 1,136 participants, reflective of the US population with 97% confidence. To learn more about the LTK Holiday Shopper Study, please visit https://company.shopltk.com/holiday-2023.

About LTK
As the founder of creator guided shopping, LTK is the trusted and effective platform for creators and their businesses by powering the connection between content and commerce. Founded in 2011 by Amber and Baxter Box, the LTK mission is to empower creators to be as economically successful as possible. World premium lifestyle creators in 150+ countries drive more than $4 billion in annual retail sales through their LTK Shop profiles. Today, nearly 30 million consumers turn to LTK Creators in the LTK shopping platform each month to find inspiration and instantly shop the styles recommended by their favorite creators. And, more than 7,000 brands partner with LTK to gain access to its global creator network for content that converts against performance-driven, cross-channel KPIs. A three-time honoree on Fast Company's list of Most Innovative Retail Companies, LTK is headquartered in Dallas, TX and currently operates on five continents. To download the LTK shopping app, search for LTK in the App Store or Google Play.
For the latest updates from LTK, follow Shop.LTK.