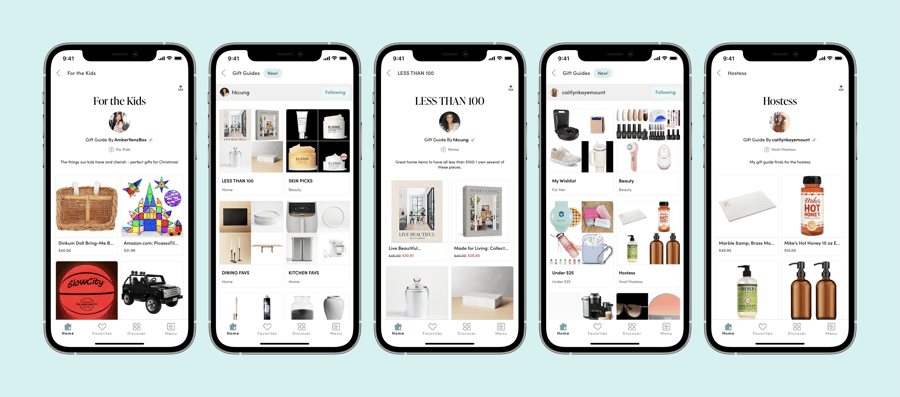 We're right on the heels of the 10th annual LTKCon - our biggest conference yet with more than 300 of the world's top lifestyle creators and top, favorite brands. The three-day event included sessions with creators and retailers like Anthropologie, Wayfair and Tarte discussing the impact of creators and their content. And keynote speaker, Shea McGee of Studio McGee, provided a glimpse into how she built her business with LTK and how her LTK Shop continues to be an important part of her strategy, including making her Netlfix show entirely shoppable through LTK.

Coming out of LTKCon, one thing was clear - creators are more powerful than ever. More consumers are turning to creators to help with their shopping decisions, and brands are looking to LTK Creators as their power partners to drive impact throughout the marketing funnel. According to new research, 43% of U.S. consumers cited creators' input as influential on their final purchase decision, and 73% of consumers between the ages of 18-25 said influencer recommendations impact their decision in making a purchase.1

This consumer trust in creators is translating into continued significant growth for LTK and our creator-guided shopping app. Retail sales on the LTK shopping app and web platform continue to see positive growth compared to last year. And more shoppers are turning to the LTK platform with app downloads and monthly usage reaching new highs, as we move into a unique hoilday season.

Holiday Shopping Made Easy by Creators
The holiday shopping season is officially here - with almost half of U.S. shoppers having already started.2 To help creators quickly create holiday content and post their gift recommendations for followers, LTK recently launched a new gift guide content creation tool and format that's exclusively available through LTK. Creators now have a new simple and hyper-efficient way to curate and post gift guide content faster so they can earn quicker while making their content easier to shop.

Last year, LTK users purchased more of their gifts through LTK creators than any other year, and we expect that trend to continue with even higher sales this year. As the major retailer sales that officially kicked off the shopping season wrapped up, we saw LTK Creators have a positive impact. During the October sales period, searches on LTK for those retailers rose by nearly 80% with average daily sales increasing by 173% compared to the two weeks prior. And the top products people were shopping for aligned with the findings from the LTK Holiday Shopping Study last quarter. Top purchased products through LTK during the recent sales period include clothing (mainly loungewear), home goods (including home appliances, decor and furniture), as well as toys and electronics. As we head further into the holiday season, LTK Creators are continuing to help consumers save time and money, so stay tuned for more deals, top products and gift guides to help with all your shopping needs this year.

We know the impact creators have on consumers and brands will continue to grow. And LTK is focused on our mission - to make creators as economically successful as possible. We provide the technology that powers creators' businesses. As we look ahead, we're committed to helping navigate and steer creators and brands toward success while delivering shoppers the best shopping experience this quarter and into next year.
1 According to AdAge and Harris Poll: https://adage.com/article/digital-marketing-ad-tech-news/influencer-recommendations-and-storefronts-shape-what-consumers-buy/2442746
2 According to LTK Holiday Shopping Study
About LTK
LTK is the pioneer of Creator Commerce - the trusted and effective creator business enablement platform. Founded in 2011 by Amber and Baxter Box, the LTK mission is to empower creators to be as economically successful as possible. The world's premium lifestyle creators in 150+ countries drive more than $3 billion in annual retail sales through their LTK Creator Shop. Today, millions of consumers turn to LTK Creator Shops in the LTK shopping platform to find inspiration and instantly shop the styles recommended by their favorite creators. And, more than 6,000 brands partner with LTK to gain access to its global creator network for content that converts against performance-driven, cross-channel KPIs. A three-time honoree on Fast Company's list of Most Innovative Retail Companies, LTK is headquartered in Dallas, TX and currently operates on five continents. To download the LTK shopping app, search for LTK in the App Store or Google Play.

For the latest LTK Creator updates, follow LTK.HQ, and for the latest shopping trends and updates from LTK, follow Shop.LTK.