The official theme of this year's Earth Day is "Invest in our Planet" and LTK is making it easier for our creators and shoppers to discover brands making this a priority. We've compiled a list of brands on the LTK platform who have made commitments to help protect the environment.
The lineup includes fashion, beauty, home, family, fitness, and food brands who are leaning into methods like organic packaging, recycled materials, cruelty-free products, and reselling gently worn items.
"We're only at the beginning of this journey. By using certified organic materials, planet-friendly recycled packaging and more thoughtful processes, we're planting the seed toward a more environmentally conscious future."
-Carter's
Some of these brands have also made it a priority to partner with creators who are conscious about what they wear and buy. Girlfriend Collective, one of the winner's of LTK's 2022 "Most Loved Awards", described in an interview with LTK how they help creators join their earth-friendly efforts;
"I think what's important for us is that whether a creator is a sustainability expert or they're just kind of touching this world and trying to familiarize themselves, we're really happy to partner with them on that journey. I think that we are in a really great time where maybe five years ago maybe one in 100 people went into sustainability and being really conscious about what they were buying and what they were wearing. Whereas now every single day that number is increasing exponentially which is so exciting for us..."
-Girlfriend Collective
Check out these brands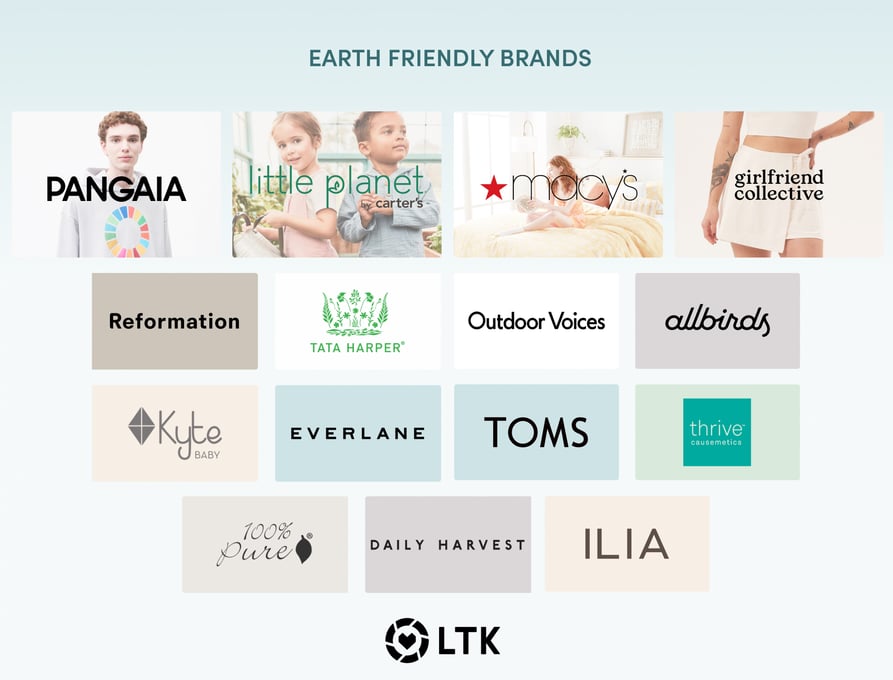 *We've identified these brands based on their mission statement, products, or programs that are eco-friendly. This list is not exhaustive of all the brands on the LTK platform with eco-friendly practices.