LTK Boost™ enables brands to engage social media users through paid reach directly from lifestyle content creator accounts
New media buy solution drives efficiency by reducing costs on content production while increasing engagement, click out rates and conversion through native creator content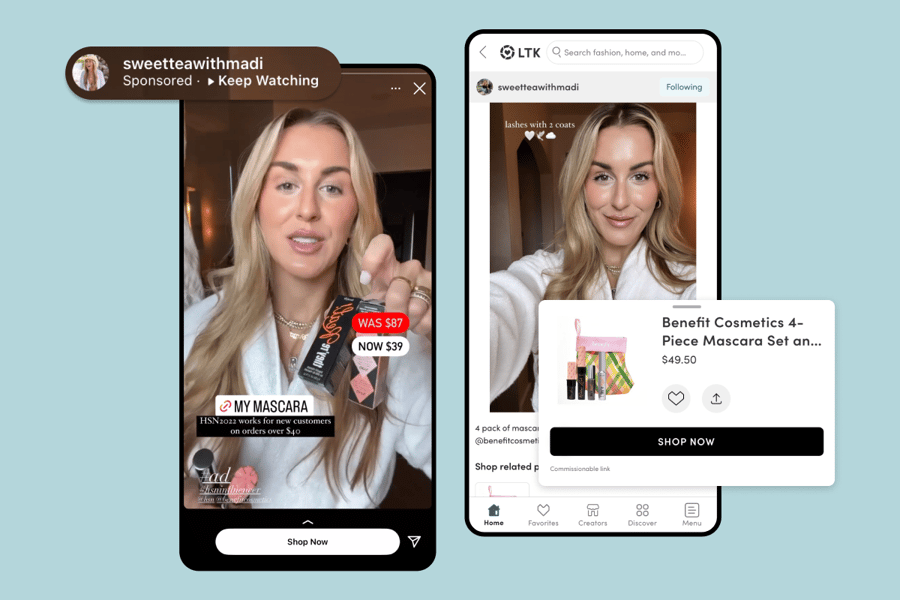 LTK, the global creator marketing platform, today launched social media advertising for brands to further leverage LTK Creator content to drive business outcomes. The new LTK Boost™ advertising solution allows brands to amplify creator collaboration content directly from the creator's social media handles - leading to higher engagement and conversion.

Brand investment in LTK Creators continued to increase last year with brand campaigns growing nearly 50% in the second half of the year. In a recent study, LTK found that Gen Z and Millennials rank influencer content over brand and even user-generated content when making a purchase decision. With LTK Boost, LTK can now run social media ads directly from creator profiles on behalf of brands -which creates a more authentic message, reduces the cost of content production and drives higher engagement and conversion versus traditional social media advertising.

In an initial offering, LTK worked with several brands across multiple categories to run LTK Boost ads from creator profiles, which led to an increase in traffic to the brands' sites, as well as a significant lift in sales with some brands seeing nearly 4X sales growth. All brand results outpaced social media ad industry click through averages by 80%. In addition, creators that participated in the trial saw significant impact with increases in audience reach, outsized gains in new followers and incremental sales and commissions for each creator. Participating creators saw nearly 200K new audience views per post and reached a near 30% increase in retail sales.

"Creators are undoubtedly having an impact on consumer shopping behaviors. 92% of Gen Z - a group that will make up the largest consumer segment in a few years - rely on creators to inform their purchases across virtually every category. And, creators are the number one most trusted source to help with purchase decisions for Gen Z and Millennials – beating social media ads and celebrities. That's why we continue to introduce solutions like LTK Media Boosting to help brands to fully harness the power of creators and reach their customers efficiently and effectively," said Kristi O'Brien, General Manager of the LTK Brand Platform.

LTK Boost is available now in the LTK Brand Platform. For more information, please visit https://company.shopltk.com/en/brands.
About LTK
The LTK creator guided shopping platform was the pioneer in the industry. LTK is the trusted and effective platform for creators and their businesses by powering the connection between content and commerce. Founded in 2011 by Amber and Baxter Box, the LTK mission is to empower creators to be as economically successful as possible. World premium lifestyle creators in 150+ countries drive more than $3.6 billion in annual retail sales through their LTK Creator Shop profiles. Today, more than 18 million consumers turn to LTK Creator Shops in the LTK shopping platform each month to find inspiration and instantly shop the styles recommended by their favorite creators. And, more than 6,000 brands partner with LTK to gain access to its global creator network for content that converts against performance-driven, cross-channel KPIs. A three-time honoree on Fast Company's list of Most Innovative Retail Companies, LTK is headquartered in Dallas, TX and currently operates on five continents. To download the LTK shopping app, search for LTK in the App Store or Google Play.
For the latest shopping trends and updates from LTK, follow Shop.LTK on Instagram and TikTok.