It's a simple question with a complex answer: What is an influencer?
The term influencer is "used broadly to refer to someone or something with the power to alter the beliefs of individuals, and as a result, impact the course of events."
From your favorite makeup company launching a new palette with an Instagram personality, to an up-and-coming apparel brand partnering with an athlete who has a massive TikTok following, to those social media giveaways you just can't resist entering -- there are endless ways that brands partner with influencers today!
While the last 10 years have made it clear how successful brands can be when partnering with influencers, a lot of people still wonder what influencers really do.
Many modern influencers start by building their personal brand and clout on social media. Depending on their niche, this often dictates whether someone chooses Instagram, TikTok, Youtube or another platform to establish their brand.
Influencers, who are often referred to as "content creators," have the power to impact purchasing decisions because of their expertise in their field—be it home design, health & wellness, beauty, DIY, and more. Social media influencers who specialize in areas like fashion and beauty may look to more visually oriented platforms like YouTube, Instagram, and TikTok to not just showcase their expertise, but engage with followers and further increase trust and connection with them.
As an influencer's status climbs and their followers increase on social media, this makes individuals all the more attractive to brands who want to foster a sense of community and trust with potential and sometimes untapped customers. Content creators and brands they love often find they have crossover potential within their own audiences.
Having the support of trusted individuals with knowledge and experience in a certain niche reinforces a brand's image and the products they're selling, helping to connect with consumers. As a result, this helps increase that brand's revenue (not to mention the influencer's credibility and follower count!).
Types of Influencers
As is the case with most professions, being a content creator isn't a "one size fits all" situation. The three most common ways to classify an influencer are based upon:
Volume of followers
Content/specialty
Preferred platforms
A common misconception about influencer marketing is that the more followers a content creator has, the better. But that's not always the case! Depending on the goal of the partnership, a brand may prefer a following somewhere in the middle, or even on the lower end since micro- and nano-influencers come with added benefits that the bigger creators don't.
Volume of Followers
We can break influencers down into four subcategories (from largest to smallest reach): Mega, Macro, Micro, and Nano-Influencers.
Mega Influencers: 1M+ followers
Mega-influencers are the upper echelon when you think of social media and influencer marketing: Chrissy Tiegen, Alexandria Ocasio-Cortez (AOC), Christiano Ronaldo, and Dwayne "The Rock" Johnson, for example, all have over 1 million followers on a platform.
Lets say a well-known brand wants to run a more evergreen, brand awareness-driving campaign to gain both trust and brand recognition with current customers while reaching new followers. Because the brand is already established and has the marketing budget to spend a significant dollar amount on this campaign, they would likely choose a mega-influencer. If they're an established brand but have a smaller budget, they may opt instead for a macro-influencer.
Macro-Influencers: 100K - 1M followers
One step down from the Mega-Influencer, Macro-Influencers also have a wide reach across social media and a trusted opinion on products, services, and a niche overall. These individuals are often celebrities in some capacity, be it a singer, athlete, politician—but they can also be self-made creators with a loyal following. Influencers are considered Macro when they have somewhere between 100,000 and 1 million followers.
Micro-Influencers: 1K - 100K followers
Micro-Influencers are the next major category by follower count, typically having between 1,000 to 100,000 followers. Working with these individuals comes with a whole slew of benefits that brands won't always get in return when working with Mega and Macro-Influencers.
Despite not having a massive following, these influencers typically have very dedicated fans who trust in the opinion of the influencer and will actively make decisions and purchases based on product reviews and recommendations from said influencer.
Nano-Influencers: Less than 1K followers
Similar to Micro-Influencers but with a following of less than 1,000, Nano-Influencers round out the pack and bring all of the same benefits to the table as Micro-Influencers, but with less of the reach.
Working with these individuals is advantageous for and often mostly leveraged by smaller, less-established brands with smaller ad budgets. On the other hand, depending on a brand's strategy, bigger brands may choose to partner with Nano-Influencers as well! Maybe they are trying to reach a very specific audience and that content creator has significant loyalty within that niche. In this instance, a Nano-Influencer may be able to offer a brand the most targeted reach and bang for their buck!
It's common that influencers establish and maintain a strong social media presence in an effort to get their name out there and build relationships within their niche. Often, an influencer may use a personal blog to share content around their main interest and/or space. However, these influencers will use social media to build hype and drive traffic to their blog. It really depends on your niche and interests as the creator.
If you're hoping to break into the influencer marketing world and you're wondering where to start, consider what you want to share with the world and which medium is best suited for that content! We've listed some benefits of both Social Media vs. Blogging below.
Content Specialty
Most creators start their influencing journey utilizing personal expertise in a specific category, specialty or vertical. As they grow followers and trust, they may venture into more than one category. The highest earning categories for LTK Creators are:
Fashion
Home & Decor
Hair & Beauty
Entertainment
Electronics
Family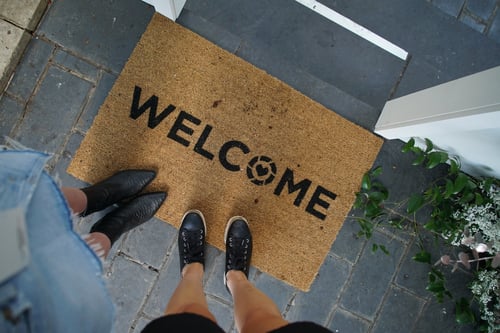 Preferred Platforms

Social Media Influencers
Some of the biggest influencers you may know are solely on platforms like Instagram, TikTok, and YouTube to share engaging content and build loyalty among fans. Think you'd like to stick to just socials? Here are some examples that may help guide your choice:
Do you want to share concise but helpful tips on all things real estate? Believe it or not, TikTok may be the best option with its quick and visual video format and text overlays.
Do you enjoy shopping, makeup, and all things style? YouTube is a great place to do unboxing videos or share shopping hauls along with tips on how to put looks together.
Want to get followers excited for new vacation destinations or local nightlife hotspots? Snap a shot on Instagram and add hashtags to point followers in the right direction!
How much influencers make per platform varies greatly depending on size of following, industry, content type, etc. A micro influencer might charge $100 per Instagram story, while a macro influencer might rack up hundreds of thousands of dollars in sponsored posts and brand deals over the course of a year.
Business Insider did a study with a group of influencers this year to find out how much they're making through their work on Instagram, and although sponsored content is generally the most lucrative way for creators to make money, there are a variety of ways influencers can make money off their content.
Affiliate links, as done through a platform like LTK, selling branded merchandise, allowing ads and other monetization tools are essential to making money off of content creation.
Blogger Influencers
On the other hand, content creators will often leverage social media to build an audience that they then direct over to their blog "offline." Social media influencers can share content on any channel such as YouTube, Instagram, and Pinterest that directs to a blog. Blogging offers several benefits that social media lacks, such as:
Longer lifespan with its evergreen content
Full control over content
Deep measurement tools
LTK Creators
In addition to social media and blogging, the LTK platform can help take you to the next level as an influencer. LTK has high-intent shoppers who are further down the funnel and more ready to commit, as opposed to social media, which is home to people browsing for entertainment, sometimes without much purpose, and following influencers and brands they know of already.
The platform connects creators, shoppers and brands so that when an influencer posts about a product and a consumer purchases it from a retailer, everyone involved benefits from it.
As an influencer who owns your own shop on the platform, LTK can enhance your money-making ability by giving high-intent shoppers with an interest in your niche easy access to products you love and recommend. Photos you post can help users "shop the pic" and purchase items. They don't need to hunt around online for the product. LTK allows you to let your followers easily find (and buy!) what they're looking for.
Even if your end goal isn't to become a Mega-Influencer, you're probably still interested in growing your audience, right? LTK can help!
We help brands, creators, and shoppers improve the overall buying experience. Learn more about how LTK can help you grow your audience and apply to join a network of like-minded creators and entrepreneurs.