The 8th annual rewardStyle conference—rStheCon—is the biggest influencer event of the year. Our premier, one-of-a-kind event in the influencer industry went digital this year and was attended by thousands of influencers from across the world along with top industry-leading brands. Now you can discover key takeaways from our dynamic main stage including excerpts from President and Co-Founder, Amber Venz Box, that brands can leverage as they build their influencer marketing strategy for Q4 and beyond.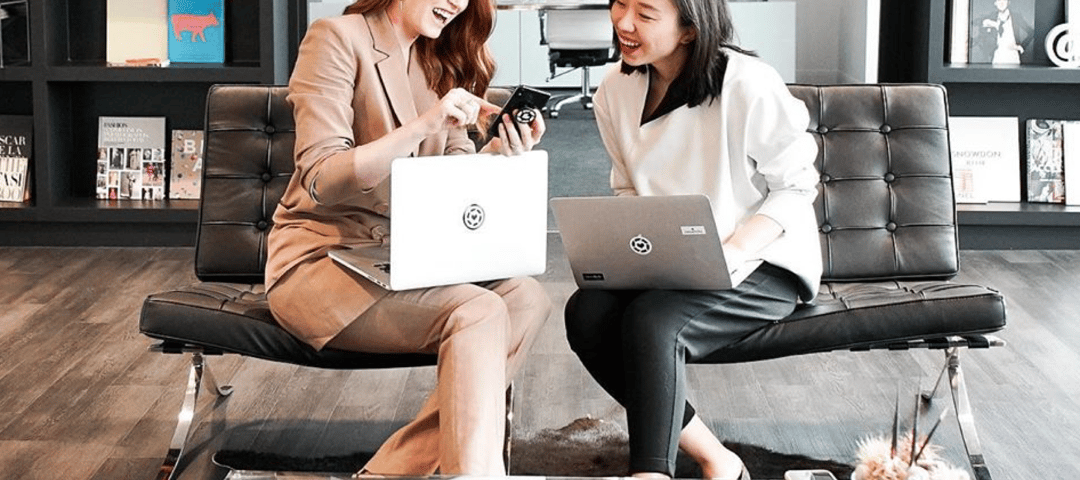 1. The Great Consumer Shift
2020 has brought swift and impactful changes to the influencer marketing landscape. The closure of retail stores and the mandate to stay home increased consumers' reliance on e-commerce like never before. On the one hand, consumers who previously were reluctant to shop online were forced into the space, while others ramped up their digital shopping consumption to include things they typically would not hesitate to purchase in-person.
While social distancing meant less physical interaction, naturally all aspects of life migrated online - consumers began spending upwards of four hours a day on their mobile devices. With content consumption at an all time high, so was the need for meaningful messaging that was relevant and useful to shoppers.
This shift ultimately made influencers the most reliable channel for communicating brand messages. Brands are leaning on influencers not only for their ability to reach consumers in their new realities, but also for their means of adapting messaging for various regions, age groups and socio-economic factors. Simply said, influencers are experts at putting brands in context for shoppers. *During peak stay at home orders, LIKEtoKNOW.it searches for the categories of Home, Beauty and Fitness, saw triple digit growth.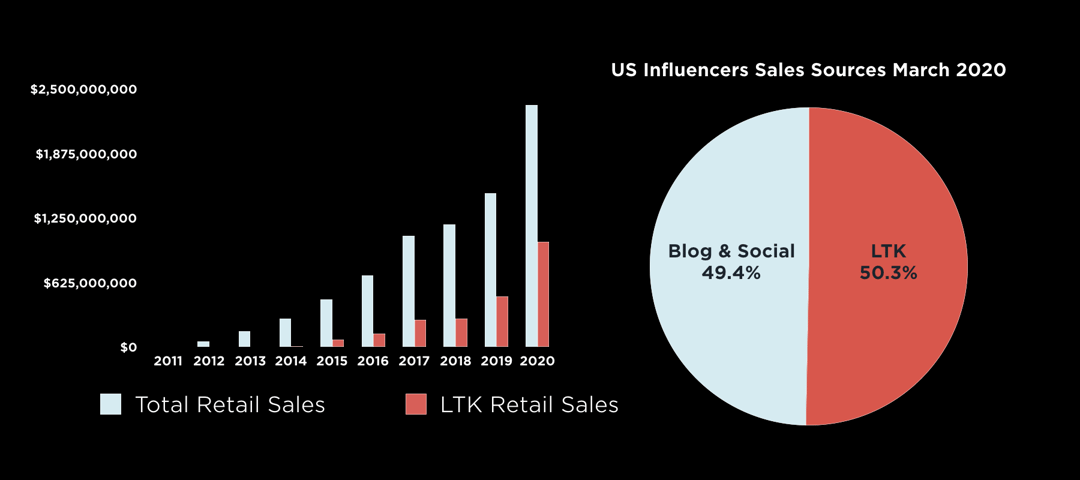 2. Performance is Possible and Continues to Accelerate
Consumers are voting for influencers with their wallets - and that growth is only accelerating. While it took rewardStyle five years to reach the first $1B in retail sales, consumers are now buying from our influencers at that volume every 6 months! More than $1B in sales were driven to brands from rewardStyle influencers in the first half of 2020.

This also pushed growth into rewardStyle's other channels. Consumers purchased $500M in products through the LIKEtoKNOW.it shopping app in the first half of 2020 and today, half of the sales influencers drive through the rS platform come from LIKEtoKNOW.it . Of all of the places rS influencers are publishing — their blog, social media, LTK...more than half of the sales are coming through the LTK shopping app. LIKEtoKNOW.it is an important platform for brands to recognize as it has become a destination and is often where consumers begin their shopping journey.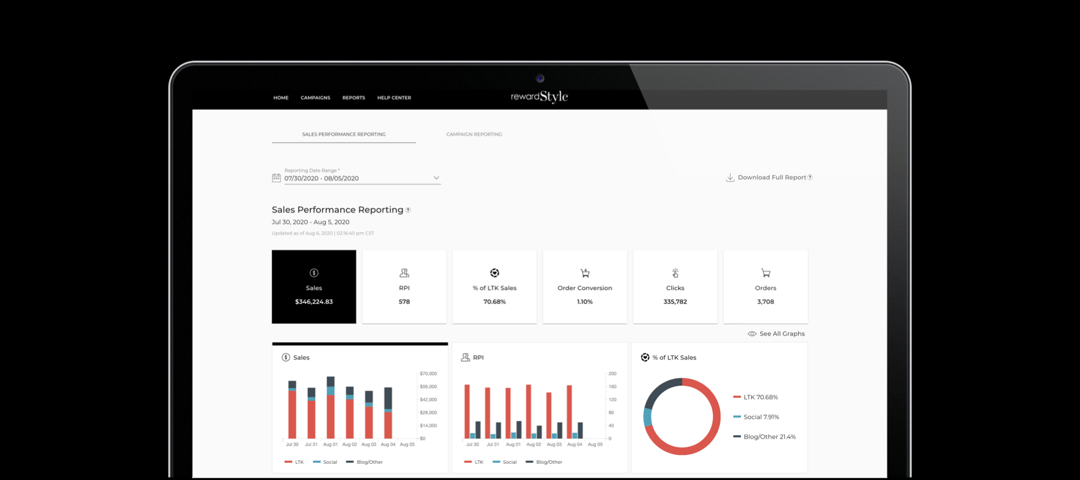 3. The Industry Has Matured and Measurement Has Become Critical
There has been a maturation within the industry, both from influencers and retailers. rewardStyle executed our first campaign in 2012, and today, the rewardStyle Brand Partnerships team cast and execute tens of millions in flat rate collaboration projects each year, Partnerships have become more formalized as both sides see the value in this investment.

As brands increase their investment in the space, there is mounting pressure to track and measure the spend to rationalize their investment. rewardStyle recently rolled out additional tools designed to help brands track their campaign performance in real time. As this innovation was intended to unlock performance data that is vital to influencer marketing campaign management, rewardStyle accelerated the launch to bring it to market during a critical time for retailers. With the mass closure of storefronts across the globe, influencers have become a dominant traffic driver, and with this release, we are aiming to better equip brands with data to pivot into pockets of demand driven by this digital sales force. Tracking has moved out of spreadsheets and into sophisticated dashboards, leading to improvements in ROAS and increased focus on performance.

Whatever the approach, the more brands understand performance data and casting campaigns based upon historical sales and proven conversion, the better the outcomes.