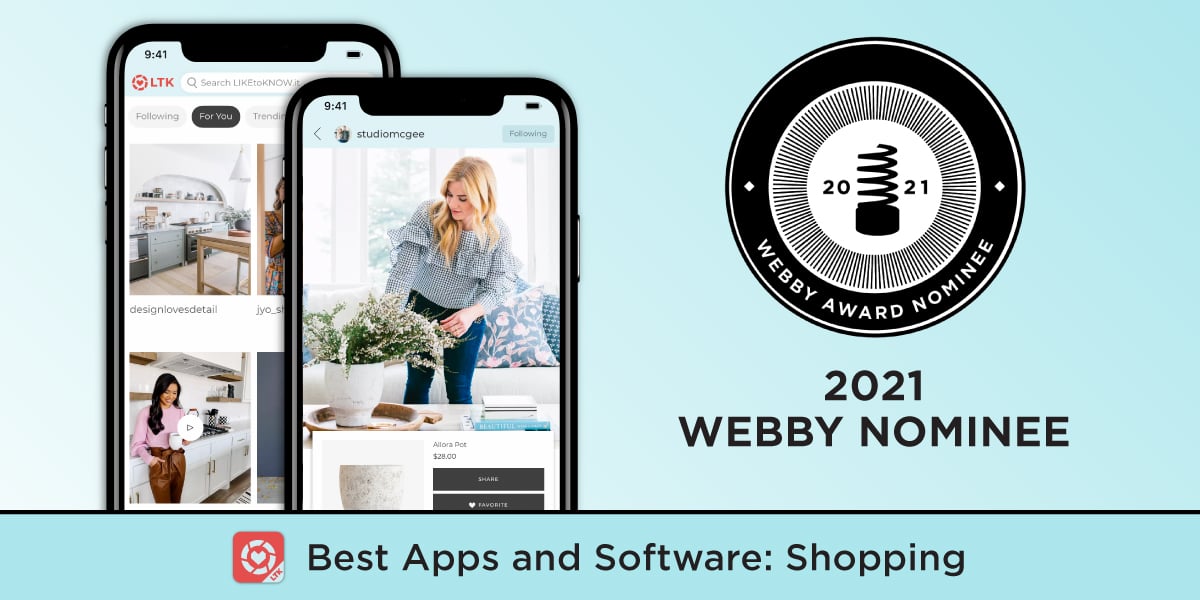 From now until May 6th, you can cast your vote at vote.webbyawards.com.
We are so excited to announce that LTK has been nominated for Best Shopping Apps and Software in the 25th Annual Webby Awards! Hailed as the "Internet's highest honor" by The New York Times, The Webby Awards, presented by the International Academy of Digital Arts and Sciences (IADAS), are the leading international awards organization honoring excellence on the Internet. An astonishing record of 13,500 entries were submitted this year, and we are part of the less than 10% who made the cut as nominees.
In the absence of IRL shopping experiences, in-person events, and even retailers' ability to produce shoots and content, influencers became both brands and consumers' lifeline to their communities and the contextual world. The LTK Shopping App thusly became not only a means for millions of consumers to virtually shop for every need, but the aptly-timed launch of features like shopping video, universal search, and Influencer Shops also filled a critical need for consumers to visualize and "experience" products while feeling cut off from the real world.
As the e-commerce landscape has evolved, LTK's approach to app innovation has focused on developing best-in-class mobile features and browse capabilities that not only empower influencers to sell better and more effectively, but also enable consumers to easily find and connect with the most relevant influencers, brands, trends or products.
As a nominee, LTK is also eligible to win a Webby People's Voice Award, which is voted for online by consumers across the globe. From now until May 6th, you can cast your vote at vote.webbyawards.com.
Winners will be announced on Tuesday, May 18, 2021, and honored in a virtual award show. Vote now and check back then to hear more!