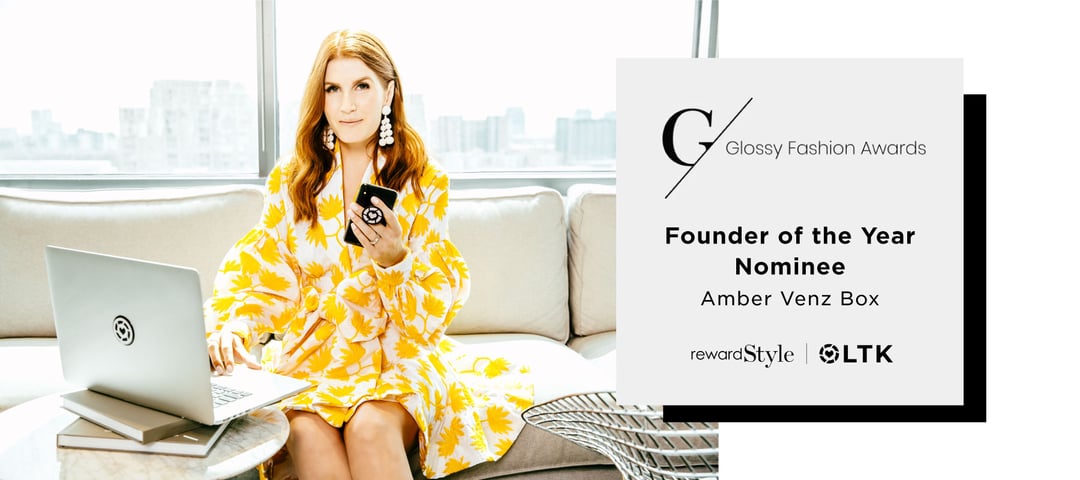 rewardStyle and LTK founder, Amber Venz Box, has officially been named to the Glossy Fashion Awards shortlist for the Founder of the Year award, and we could not be more excited or honored to be listed among this year's talented nominees. This year's Glossy Fashion Awards highlight key stories of growing businesses working tirelessly to reach audiences across all walks of life after such a turbulent 2020.
With an innovator's vision and a designer's eye, Amber Venz Box, cracked the code for monetizing digital lifestyle content at the young age of 23, launching rewardStyle as a solution for her own blog, venzedits.com. At the time, frustrated that she was being cut out of earning a commission on the offline sales she was driving for brands via her blog recommendations, Amber created rewardStyle as the de facto solution for monetizing digital content across all digital and social channels.
What the modern influencer wants and needs most is the ability to grow their own business. To find new followers and consumers across a variety of social platforms and then convert them from shoppers to buyers in the most seamless way. rewardStyle powers influencers to engage their audiences across all social platforms, and then drive to their own destinations: their LTK shops and blogs.
Founded by an influencer for influencers, rewardStyle and LTK utilize Amber's unique perspective to connect top-tier influencers with more than a million brand partners worldwide. Amber's goal for the business has always been to empower the world's premium lifestyle influencers to achieve maximum economic success — empowering thousands of content creators around the world to capitalize on their creative gifts by providing them with the technology, relationships, and education to make money doing what they love. rewardStyle puts people in business and since its inception, it has created over 100 millionaires — all women, and 20 of which hit that milestone in the last year alone.
There's so much more than meets the eye in the creator business. The last year has shown us that influencers are not only one of the most adaptable marketing resources, but also among the most effective in helping brands successfully reach and engage with consumers - through even the most strained circumstances.
Amber's dedication to innovating the influencer industry is unrivaled; she and the teams are constantly testing and dreaming up new technology to propel this career path forward.
Check back June 17th to see who takes home Founder the Year!